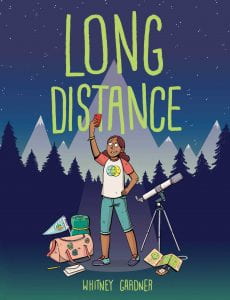 Gardner, Whitney. Long Distance. Simon & Schuster Books for Young Readers, 2021. 978-1-534-45566-5. 315 p. $21.99. Grades 5-8.
Author and illustrator Whitney Gardner's latest, Long Distance, is a charming middle grade graphic novel with something for almost every reader to love. When 10-year old Vega's family relocates from Portland to Seattle, she has to leave her best (and only) friend Halley behind. To help her make new friends, Vega's dads send her to a remote camp in the Washington woods called Very Best Friend. Vega is skeptical; she has Halley, after all, although her bestie hasn't returned her last few texts. And the camp itself is unusual, with nonstop overcast skies, zero cell reception, and awkward counselors. Vega and her fellow campers discover surveillance gear hidden inside a pinecone, fake rocks scattered in the forest, and other clues that something is amiss. Vega, twins Gemma and Isaac, and chatty Qwerty join forces to gather more information in some of the book's most entertaining sequences. Whitney Gardner's illustrations are digitally rendered, with camp scenes depicting the natural world in earthy tones of green, rust, and slate blue. Bright, otherworldly colors cue the graphic novel's big reveals.
THOUGHTS: This fish-out-of-water story blossoms into a science fiction-infused mystery, all while delivering some heartfelt lessons about how to make (and be) a real friend, no matter the distance.
Graphic Novel          Amy V. Pickett, Ridley SD