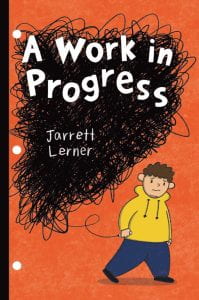 Lerner, Jarrett. A Work in Progress. Aladdin, 2023. 978-1-665-90515-2. $17.99. 41 p. Grades 5-8.
Will was once a happy fourth grader with a large group of friends. Friends he could never imagine losing, fourth grade friends who had sleepovers and promised to one day be college roommates. One day a classmate teased Will about his weight, humiliating him in the hallway in front of the entire grade. With this one word, Will began to see himself differently. By middle school Will is a loner who buries his feelings by eating. Will chooses to draw constantly instead of engaging with others. He sits alone at lunch, avoids crowded hallways, and buries his head in his sketchbook when people try to engage with him. Will's inner voice tells him he is an unworthy monster that no one will ever understand or want to be friends with. Will is sure that if he can just change his physical appearance then everything will go back to the way it was before that horrible moment so long ago. Long lost friends will return to inviting him for sleepovers, and girls will stop being disgusted by him. Will often sneaks outside at lunchtime to hide behind the auditorium. Here he meets a new student, Markus, who also is avoiding the lunchroom so that he can ride his skateboard. Markus has moved all over the country. This is his eighth new middle school. Markus is confident and kind, but Will has forgotten how to make and be friends with kids his age, and he pushes Markus away. Eventually Will's unhealthy plan to lose weight catches up with him, and he collapses in the hallway at school. As he recovers, Will opens up to his parents, and accepts help from a therapist. Markus sticks with Will, gently encouraging him to be a friend, ride a skateboard, and to stop trying to change himself for others, but to accept himself. Markus explains that we are all "works in progress" capable of change and growth through accepting help from parents, friends, teachers, and mental health specialists. Will begins to realize that working one day at a time, he can improve his self-image.
THOUGHTS: This is an important, emotionally moving novel. Will's thought process and the characterization of his inner monster are written in verse with illustrations from his sketchbook. The inner-angst of peer pressure, of overhearing unkind comments, the middle school awkwardness of running into an old friend, all are heartbreakingly real. The narrative cleverly changes to prose when Markus reveals his different, but difficult, backstory. Anyone who has ever struggled with food and body image, confidence, isolation, peer pressure, or bullying will relate to this beautifully written book. Equally significant, this novel shows the direct effect of a single unkind word. A fabulous read aloud that will provide an excellent opportunity for class discussions about the many issues raised in this novel. Publication date: May 2, 2023.
Illustrated Novel in Verse, Realistic Fiction