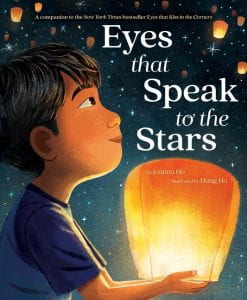 Ho, Joanna. Eyes that Speak to the Stars. Illustrated by Dung Ho. Harper Collins Childrens, 2022.  978-0-063-05775-3. Unpaged. $18.99.  Grades K-3.
By the same author of Eyes that Kiss in the Corners, Eyes that Speak to the Stars follows a young boy whose friends point out that his eyes are different that theirs, and the family members:  Baba, Agong, and Di-Di who help him embrace this difference and realize that his eyes reflect those he loves. The use of a father, grandfather, and younger brother makes the book multi-generational in words and illustrations and both celebrate the roots and loves shared by the book's family. Dung Ho's realistic illustrations are highly accessible to the young audience.  
THOUGHTS: I highly recommend this book. Its illustrations are accessible and beautifully rendered, celebrating a contemporary boy and his family roots. The writing presents strong, positive, and loving male characters to the audience with a rhythm that encourages re-reading and opens discussion between readers.  
Picture Book          Hannah J. Thomas, Central Bucks SD
Realistic Fiction, Diversity, Self-Acceptance, APPI, Imigration, Family, Tradition.