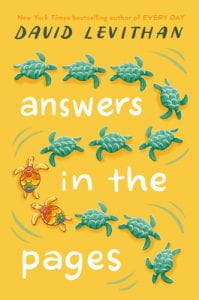 Levithan, David. Answers in the Pages. Alfred A. Knopf Books for Young Readers, 2022. 176 p. 978-0-593-48468-5. Grades 4-8. $17.99.
"At that moment Rick knew just how deeply he loved Oliver, and Oliver knew just how deeply he loved Rick…" One's interpretation of a single statement can make all the difference. The statement itself might be less noticeable depending on where it is seen or heard and the surrounding context. When the The Adventurers, a book being read by Donovan's fifth grade class, is picked up at home by his mother, she decides it is inappropriate for him to read. It doesn't take her long to get on the phone with Donovan's friends' moms either and schedule a meeting with the school. Donovan only read the first few pages in class but can't see what his mom would think is wrong about a book where kids go on adventures. Before he returns to class without his copy of The Adventurers (because his mom hasn't returned it), Donovan stops by the school library to get a copy so he can see what's "so bad." Because his mom drew so much attention to the book, several classmates have finished reading and the kids have honest, open discussions with each other and their teacher Mr. Howe who is openly gay. Told in short, alternating chapters, Donovan's story unfolds; alongside Gideon's, another elementary school-aged boy; and Rick and Oliver's, the characters from the book being challenged. Readers will see what happens when a book's content is challenged – how it impacts the teacher, the students, and families who may not agree with each other.

THOUGHTS: Timely and full of heart, Answers in the Pages is a book that should be in every upper elementary and middle school library! Highly recommended for readers who will be able to follow three separate narratives.

Realistic Fiction          Maryalice Bond, South Middleton SD