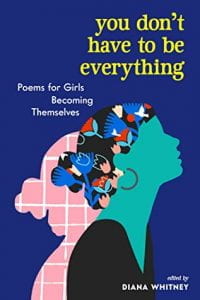 Whitney, Diana. you don't have to be everything: Poems for Girls Becoming Themselves. Workman Publishing, 2021. 978-1-523-51099-3. 165 p. $14.95. Grades 9-12. 
I want this book on my coffee table, but I also want it on my nightstand. And I also want it in my office, and maybe in my car. It's beautiful and consumable and has something for any woman, in any moment. Whitney's subtitle is "poems for girls becoming themselves," but I think many women never got the chance to be themselves. The collection is organized by eight themes: seeking, loneliness, attitude, rage, longing, shame, sadness, and belonging. There is something in this small book for everyone, they just have to be willing to let the poetry awaken their heart and the affirmation of who they are and how they feel will be present. 
THOUGHTS: If your high school students are as hungry for poetry as mine are, add this to your collection. The art and design make the work of legends like Angelou and Oliver as accessible as their modern day counterparts like Gorman, Acevedo, and Baer. At the very least, get this book to just have in your office and hand out the poems like candy on Halloween, but every day. 
Poetry         Samantha Hull, Ephrata Area SD