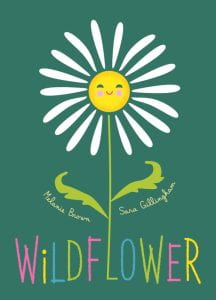 Brown, Melanie. Wildflower. Greystone Kids, 2022. 978-1-77164-906-3. Unpaged. $17.95. PreK-2.
When Daisy blooms in the garden, she is immediately insulted by the other flowers for being a weed. She is told that she isn't as beautiful as Rose or as tasty as Sage. Her flowers can't make tea like Chamomile's. Just as she begins to droop completely in shame, she meets other plants who have amazing qualities, even though they also are called weeds. For instance, Blackberry Vine makes delicious berries, and Sweet Pea smells amazing. Daisy soon realizes there is a place for everyone in the garden, no matter what they are called. Gorgeous, simplified illustrations highlight Daisy's emotions throughout the story and provide readers with convincing representations of actual plants.
THOUGHTS: This is an adorable story with a subtle message about inclusion, self-respect, and accepting others for who they are. I also love that it incorporates educational information, including back matter about plants and weeds. Give this to fans of The Rainbow Fish (1992) or to gardening enthusiasts.
Picture Book          Julie Ritter, PSLA Member