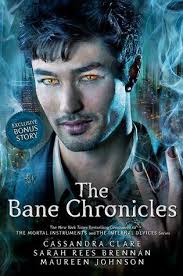 Brennan, Sarah Reese, Cassandra Clare, and Maureen Johnson.  The Magnus Bane Chronicles.  New York, NY: Margaret K. McElderry Books, 2014.  528 p.  978-1442-495999.  $22.99.  Gr. 9+.
This collection of short stories is a supplement to both of Clare's The Mortal Instruments and The Infernal Devices series.  Each story features the elusive and flamboyant warlock, Magnus Bane, and back story about specific events or characters mentioned throughout both series.  In one story, Magnus attempts to help a targeted Marie Antoinette escape from France in order to impress an attractive and persuasive soldier.  In "The Midnight Heir", Magnus returns from a 25 year hiatus to England where he runs into a debauched, wildly drunk and destructive young Shadowhunter, who just happens to be the son of his friends, Will and Tess Herondale.  He escorts James, the appropriately named teen, back to the London Institute and learns there is more to the boy's troubling behavior than meets the eye.  Fans will appreciate learning just what happened in Peru, more about Bane's torrid affairs, and awkward details about when he began dating Alex.
I really enjoyed this collection because Magnus is one of my favorite characters in Clare's series.  The writing is witty and the historical references are carefully plotted. I have a group of girls who are obsessed with The Mortal Instruments and were counting down the days till I got this one in.  The short stories were previously released monthly throughout the year of 2013 as Kindle singles on Amazon, which leads one to question why it was republished in a physical form if not for any reason other than profit.  Also, if you have not read any titles in this series, Magnus is gay, just in case that is something you have to watch out for in your collection. Throughout the series he has relationships with males, females, vampires, and Shadowhunters.
Fantasy            Melissa Daugherty, Sharon City Schools