Macy, Sue, and Matt Collins. Trudy's Big Swim: How Gertrude Ederle Swam the English Channel and Took the World by Storm. Holiday House, 2017. 978-0-8234-3665-1. $16.95. 36 pp. Gr. 2-5.
Gertrude Ederle was not used to failure. Her determination, athleticism, and fearlessness could take her almost anywhere. Soon the challenge of successfully crossing the 21 mile stretch of the English Channel and becoming only the sixth person, and first woman, was her goal.   "England or drown" became her motto. Trudy's Big Swim takes readers into the water with her on the journey and shows the perseverance she needed to succeed. Sue Macy's words are just right to drive the action while giving some backstory, and Matt Collins provides a lively realistic backdrop for this fascinating glimpse of pushing the human limits in the 1920's. A timeline of sports highlights is added to the end pages, as well as an afterword, author notes, and source notes at the end.  THOUGHTS: There are many great water adventure challenges that could be connected to this story, including a recent comparison of Diana Nyad's swim to Cuba. I think it is a fascinating discussion to see what drives people to try the impossible, and how they respond when they reach their limits. Hopefully, Trudy's Big Swim will inspire a few readers – girls or swimmers in particular – to find their quest.
797, Sports    Dustin Brackbill, State College Area SD
Mould, Steve. How to Be a Scientist. DK, 2017. 978-1-46546-121-6. $17.99. 144 pp. Gr. 2-5.
Jump right into this colorful exploration of science with quick activities and experiments both familiar, fun, and fresh! Starting with basic layout info and tips for experimenting, Steve Mould then takes readers through six different strands of science: natural world, human body, chemistry, earth, physics, and space. Each unit has quite a few experiments deftly mixed in with background facts and occasional bios of famous scientists. The layout is the typical DK style that is attractive to young readers, broken into short text segments, and full of photos, fact boxes, and illustrations. One desirable trait in this volume is the accessibility of the activities, often using simple household products and basic three step directions. This pattern allows readers to dive in and explore for themselves, inquiring as they go and connecting to a larger scientific world. From making bug chambers to color exploration to crystals and more, discover the world for yourself!   THOUGHTS: This is an attractive book to replace any old faded editions from long ago. The blend of information makes it accessible to a range of ages, and good for repeated reading. Easy to connect some of these activities to makerspace or inquiry centers as well. Though not in depth, How to Be a Scientist is a great cursory view of science.
500, Science     Dustin Brackbill, State College Area SD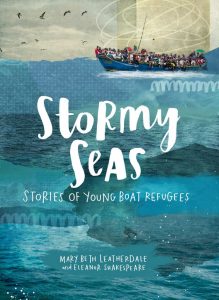 Leatherdale, Mary Beth, and Eleanor Shakespeare. Stormy Seas: Stories of Young Boat Refugees. Annick Press, 2017. 9781554518968. $24.95. 56 pp. Gr. 4-6.
This excellent resource will place readers on the boat with youth who are struggling to survive and to find a new life. Whether escaping Germany, Vietnam, Cuba, or Afghanistan, the journey to freedom is never easy or without cost. The true narratives of individual youth from each of these locations help to give a first person experience for readers. There are direct quotes mixed in with timelines, definitions, additional facts, and current updates. Their worlds are also represented with engaging photos and collages from illustrator Eleanor Shakespeare. The honest explanations about the reasons and consequences for escaping may open new discussions for many readers. These boat rides to hope and promise are full of perseverance, and they remind us of our good fortune and responsibility to educate ourselves about their stories.  THOUGHTS: The author, Mary Beth Leatherdale, does an admirable job of addressing this tricky topic in a way that is relatable and eye-opening. Students will likely have questions no matter what their age, and there are few resources at this reading level besides some online sites. A very worthy purchase.
305, Refugees     Dustin Brackbill, State College Area SD
MacLeod, Elizabeth. Top Dogs: True Stories of Canines That Made History. Annick Press, 2017. 978-1-55451-907-1. 102 p. $18.00. Gr. 3-6.
Sure to please dog lovers, MacLeod's book showcases several dogs and breeds who have served man in a variety of ways over hundreds of years. Some dogs, like Balto and Togo, are relatively well-known and well-covered within children's books; others, like the first American guide dog Buddy, will be new for most kids. There's a little something for every dog lover–canine war heroes, search and rescue dogs, adventure companions, even royal pups. The text is upbeat and interesting and includes lots of photos and illustrations to help readers visualize these exciting dogs in action. The book includes lots of colorful and attractive text features, like sidebars with information on breeds or the history of a working dog job, which can become a little distracting and take a lot of back-and-forth reading. Aside from busy page layouts, it's a great read. A timeline, places to visit, and further reading sections are included. THOUGHTS: An attractive, enjoyable addition to your dog collection.
636.7, Service Dogs      Lindsey Long, Lower Dauphin School District