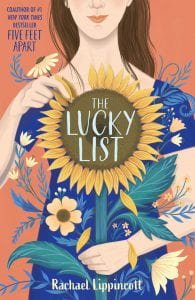 Lippincott, Rachael. The Lucky List. Simon & Schuster, 2021. 978-1-534-46853-5. $18.99. 294 p. Grades 7-12.
Shunned by her high school peers for boldly kissing an underclassman at the junior prom in full view of her well-liked boyfriend, Matt, Emily Clark faces a lonely summer in Huckabee, her small Pennsylvania town. Her best friend, Kiera, is working as a counselor at a sleep away camp; Matt is kind but confused at her actions; her dad is as distracted by work as ever leaving Emily to pack up her deceased mother's belongings. Still nursing her grief over her mother's passing three years prior from cancer, Emily finds a bucket list her mother penned her senior year of high school. When her parents' best friend, Johnny Carter, moves to Huckabee from Hawaii with his daughter, Blake, the two girls spend a special summer together. Both motherless, they bond easily, and Blake is supportive when the diffident, cautious Emily challenges herself to check off the twelve points on her mother's list. Convinced this accomplishment will reveal the new and improved Emily, she finds herself—with Blake's encouragement and help—jumping off cliffs, sleeping under the stars, fending off others to steal forbidden apples, picking a four-leaf clover, etc. until ultimately, she is faced with the final task: kissing Matt. Rachael Lippincott's The Lucky List is a cozy coming-of-age novel with a LBGTQ+ theme. Narrator Emily relates the questioning, the fears, the missteps of discovering whom one really is authentically and satisfyingly. The relationship between Emily and Blake is gradual and fun; the soul-searching Emily is relatable. A pleasant read for any teen, but may strike a particular chord with those grappling with their sexual identity. 
THOUGHTS: The Lucky List is a light read, heavy on friendship and caring rather than sex. The awakening of a person to her sexual identity may be helpful addition on school library shelves.
Realistic Fiction          Bernadette Cooke  School District of Philadelphia