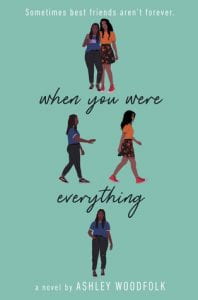 Woodfolk, Ashley. When You Were Everything. Delacorte Press, 2019. 978-1-524-71591-5. $17.99. 385 p. Grades 9 and up.
Cleo hasn't spoken to her best friend, Layla, in 27 days. Everywhere she goes in her hometown of New York City, the ghost of their friendship lurks. Tired of torturing herself, Cleo comes up with a plan to erase all memories and associations of Layla by creating new memories surrounding her triggers like the park where they first met and the diner they frequented. A good plan in theory, all of Cleo's meticulous plotting is rendered moot when she is not only forced to see Layla at school but also – even worse –  assigned to tutor her in English. Cleo tries desperately to figure out Life-After-Layla, but being forced to see her makes it difficult. It seems like her memory erasure plan might work when she decides to go back to Dolly's Diner alone and runs into Dom – a cute boy she met at a party a few months ago with Layla – and Sydney – another girl in her class. However, Cleo explains, "My faith in friendship has been shaken, and I'm not sure if I'll ever get it back." This novel is written in an alternating timeline from the present to the months leading up to Cleo and Layla's break-up, revealing that Cleo is not completely innocent in the unraveling of their friendship.
THOUGHTS: Cleo narrates, "Girls wage endless wars with their voices, tearing you apart without touching you at all." So many YA novels feature these epic female friendships, but for many girls this is not reality. In our culture where the expression "BFF/Best-Friends Forever" is thrown around like an expected fact of life, this book is an extremely important read for all girls. Female friendship break-ups can be just as heartbreaking – if not worse – than a romantic break-up, especially as teenagers when talk of the friendship lasting "forever" occurs much more frequently than in a high school romantic relationship. Woodfolk's narrator is not perfect, but she is real, and her narration is raw and emotional. There are tons of songs and poems to help with the catharsis of emotions after a romantic break-up; Ashley Woodfolk has written a rare one for the friendship break-up with this novel.
Realistic Fiction          Sarah Strouse, Nazareth Area SD