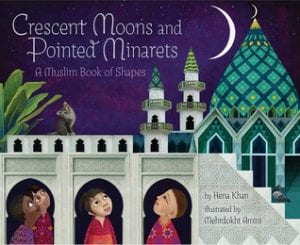 Khan, Hena. Crescent Moons and Pointed Minarets. Chronicle Books, 2021. 978-1-452-18274-2. 32p. $7.99. Grades K-2.
A young Muslim girl takes readers through the shapes of different things found in Islam using shapes with simple rhymes. The illustrations are absolutely beautiful and every time readers go through this book, they will find something new to look at within each illustration. There is a glossary found in the back of the book, as well as an author's note which helps to explain some of the terms that readers might not have heard of before.
THOUGHTS: This book is a must have for any elementary collection. The illustrations are beautiful and will draw readers into wanting to pick it up and flip through its pages.
Picture Book          Mary Hyson, Lehigh Valley Regional Charter Academy