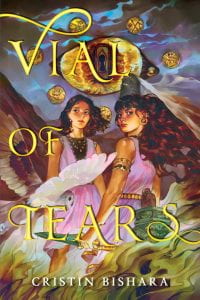 Bishara, Cristin. Vial of Tears. Holiday House, 2021. 978-0-823-44641-4. $18.99. 320 p. Grades 9-12.
Sixteen year old Samira is just trying to get by. Her father is missing in action, and her mother has a habit of disappearing for days at a time. When she receives a vase containing antique coins from her great grandfather in Lebanon, Samira and her sister Rima are unwillingly transported to the Phoenician underworld by the owner of one of the coins: a half god named Eshmun. Samira is desperate to get home, but when she is separated from Rima, she must rely on Eshmun and his companion Teth to find her. However, the underworld is a dark realm with dangerous creatures lurking around every corner, and Sam doesn't know if she can count on anyone to help her and her sister get home. In a world where everyone seems to be after power or wealth, who can you trust?
THOUGHTS: Vial of Tears is another great title to recommend to readers who enjoy reading about mythology, and Phoenician mythology is definitely unique subject matter for young adult fantasy literature. Readers also will enjoy the sibling relationship between Samira and Rima and Sam's memories of her time with her father.
Fantasy          Emily Hoffman, Conestoga Valley SD