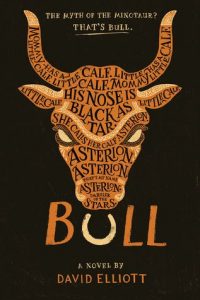 Elliott, David. Bull. Houghton Mifflin Harcourt, 2017. 978-0-544-61060-6. 189 p. $17.99. Gr. 9-12.
A modern twist on the story of Theseus and the Minotaur, this sassy novel in verse will have readers hooked from the beginning.  Each chapter is written in a unique poetic form and in one of seven different voices, Poseidon, King Minos, Queen Pasiphae, Daedalus (builder of the Labyrinth), Asterion (the Minotaur), Ariadne (Asterion's half sister), and Theseus.  For the most part, the story stays true to the myth; Poseidon exacts revenge on King Minos by making his wife fall in love with a bull, after which she gives birth to Asterion, who is ultimately locked up in the Labyrinth until he is killed by Theseus.  The author, however, takes some liberties in developing the attitudes and relationships among the characters.  The book ends with an author's note about his take on the myth and an explanation of the various poetic forms used throughout.  An excellent choice for both English classrooms and leisure reading, this title's use of rhymes, modern slang and profanity will help today's students make connections and find relevance in an old classic.  THOUGHTS: I could see this book being used in so many ways.  English teachers might find it useful as a way to introduce an old classic or introduce poetic forms. It could be read aloud like a play as a way to engage students.  The underlying message about the frailty of humans could spark some great discussion.  Students could compare and contrast between the classic version of the myth and this version. No matter what the use, note that the book does contain some profanity, so audiences should be selected accordingly.
Fantasy (Mythology)    Julie Ritter, Montoursville Area High School​
Garber, Stephanie. Caraval. New York: Flatiron Books, 2017. 978-1-2500-9525-1. 416 p. $18.99. Gr. 7-12.
Scarlett and her sister Tella have lived their entire life on the island of Trisda, secluded from the rest of the world. Eager to escape her tyrannical father, Scarlett is excited when he arranges a marriage for her and thinks only of taking Tella with her. One night, a mysterious sailor convinces Tella to leave, and Scarlett feels compelled to follow. She finds herself wrapped up in Caraval, a magical event that blurs the lines between performance and game, often with deadly results. Scarlett is now a player in Caraval, and she must find Tella, who has been kidnapped by Caraval's strange creator, Legend. Scarlett must solve cryptic puzzles and navigate the deadly terrain, unsure who is a player or an actor, while fighting off feelings for the mysterious sailor. Caraval is thrilling, mysterious and unique; it's unlike anything else on YA shelves. THOUGHTS:  Stephanie Garber's debut will enchant any fantasy, sci-fi or romance fan, and leave you hanging on the edge of your seat at the book's conclusion. Highly recommended.
Fantasy      Vicki Schwoebel, Friends' Central School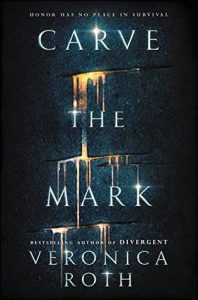 Roth, Veronica. Carve the Mark. HarperCollins, 2017. 978-0-06-234863-0. $22.99. 480p. Gr. 9 and up.
Carve the Mark is a story of friendship and love in a galaxy where oracles see the future and the current supplies everyone with a currentgift. The story is told from two characters' points-of-view. The female protagonist, Cyra, got an unenviable currentgift of being in constant pain, which she can inflict on others when she wants. Her brother, Ryzek, is the ruler and tyrant of the aggressive Shotet, and he keeps order among his people by forcing Cyra to use her currentgift on anyone who mentions the prophecy of his downfall. The second point-of-view is told by the other protagonist, Akos, who is from the peaceful Thuvhe people.  He is the son of an oracle and the only person in the galaxy that can touch Cyra without feeling pain since his currentgift is the ability to stop the flow of other's gifts. Cyra and Akos find themselves both fighting against Ryzek and over time start to fall in love. THOUGHTS: I enjoyed reading this book, which is the first in a planned duology. It received a starred review from Voice of Youth Advocates (VOYA) and is a must-have for all middle & high school libraries due to the popularity of Roth's Divergent trilogy. My hint for the readers of this book is to persevere with the difficult names. Countries, planets, and people all have unusual names, which some of my students sometimes voice displeasure with. There is some descriptive violence and ritual scarification which might turn some readers off.
Fantasy; Science Fiction    Bridget Fox, Central Bucks SD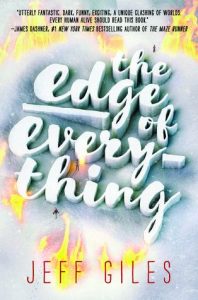 Giles, Jeff. The Edge of Everything. New York: Bloomsbury, 2017. 978-1-6196-3753-5. 368 p. $18.99. Gr 7-12.
Zoe lives in a remote area of Montana with her mother and younger brother, Jonah. Her year has been pretty terrible; her Dad died in a caving accident, and her elderly neighbors mysteriously disappeared not long after. Zoe is doing everything she can to hold onto the family she has and come to terms with her loss. One night during a blizzard, Zoe finds herself under attack and unable to call for help due to the storm. She is saved by X, a strange (but handsome) bounty hunter from the Lowlands, who was sent to take the soul of her attacker. While Zoe knows she should be terrified, she instead finds herself drawn to X, who is unlike anyone she's ever met. As the two connect, she finds that X is risking everything to stay by her side. Zoe is determined to free X from the Lowlands, but as a result must learn the terrifying truth about her missing father and neighbors. THOUGHTS: A fast-paced, original story that's a great addition to any fantasy collection. Fans of supernatural romance will swoon as Zoe and Z fall in love, and action fans will be on the edge of their seat as the novel takes off.
Fantasy     Vicki Schwoebel, Friends' Central School