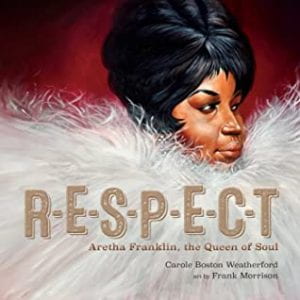 Weatherford, Carole Boston. R-E-S-P-E-C-T. Atheneum, 2020. 978-1-534-45228-2. Unpaged. $18.99. Grades K-3. 
Aretha Franklin, the Queen of Soul, is introduced to a new generation in this vibrant picture book. While this biography is brief, it succeeds in conveying the essence of Franklin's life. The oil paint illustrations by Frank Morrison draw readers into the story, their richness implying the importance of her family, faith, community and music. The rhyming couplets on each two-page spread succinctly summarize aspects of Franklin's history, the rhyme scheme unifying the book. Understandably, the abbreviated format does not allow for deeper exploration of her life, and no mention is made of darker events such as her parents' separation, her mother's death before Aretha was 10 years old, or the children she bore at age 12 and 14. (The information about her parents is mentioned in the Author's Note following the story text.) The book accomplishes its intended purpose beautifully, celebrating the life of a revered talent. Hopefully a nearby adult will pair a reading of the book with an introduction to Franklin's glorious music.
THOUGHTS: A lush, inspiring introduction to a musical icon and activist. With a motion picture biography slated for release in August 2021, this could be a timely purchase.
Picture Book          Nancy Nadig, Penn Manor SD