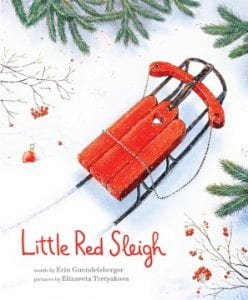 Guendelsberger, Erin. Little Red Sleigh. Sourcebooks Wonderland, 2020. $13.70. Unpaged. Grades K-3. 
The little red sleigh wishes to be something bigger, something stronger, something grander–Santa's sleigh. Others tell her that this will never happen, but she is determined to make it to the North Pole and convince Santa that she can do the job. Along the tough journey, she is helped along by a beautiful, grand train and a bright yellow truck, who tell her that life happens one step at a time–she has the right spirit but must employ some patience, too. When a major snowfall hits, the sleigh stops in a village where she enjoys a wonderful day of sledding with a little girl. Ultimately, the little red sleigh decides that she must let her life happen one step at a time too, and she stays with the little girl (perhaps before going on to bigger things with Santa). An encouraging note from the big man in a red suit doesn't hurt, either!
THOUGHTS: Elizaveta Tretyakova's beautiful illustrations turn this basic but sweet holiday story into something bigger and more grand.
Picture Book            Lindsey Long, Lower Dauphin SD