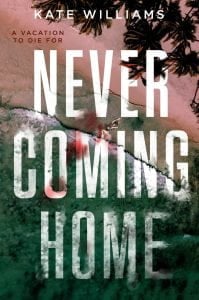 Williams, Kate. Never Coming Home. Delacorte Press, 2022. 978-0-593-30486-0. 320 p. $18.99. Grades 9-12.
A free, invite only trip to a never before seen, exclusive tropical island resort is too good to pass up for ten young influencers. Following an extensive marketing campaign, the resort has a soft opening for its first ten guests. They represent a variety of backgrounds: the gamer, the beauty blogger, the rich girl, the superstar, the junior politician, the environmentalist, the DJ, the CEO, the chef, and the athlete. But pictures can be deceiving, and Unknown Island isn't all it was promised to be. Cut off from the rest of the world the guests come to realize the island resort is a trap instead of a treat; then things turn deadly. Each influencer keeps their secrets close, beginning to question who else is on the island with them – or if one of them is the person behind the terror. Who will suffer horribly, and who (if anyone) will make it off alive to tell the tale?
THOUGHTS: Recommended for high school libraries, hand this fast-paced thriller to fans of Gretchen McNeil, Karen McManus, and April Henry.

Mystery          Maryalice Bond, South Middleton SD
Thriller