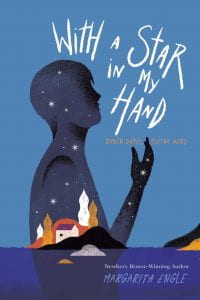 Engle, Margarita. With a Star in My Hand: Rubén Darío, Poetry Hero. Atheneum, 2020. 978-1-534-42493-7. 144 p. $17.99. Grades 7-12. 
Based on the life of Rubén Darío, Margarita Engle's With a Star in My Hand depicts a fictionalized account of the poet's rise to fame. Coming from humble origins, a mother who abandoned him to a poor working aunt who encouraged his love of literature, Rubén Darío rose to become the father of a literary movement. From a young age his poems inspired and awed those around him as he took chance after chance offered to him. However, his road to fame wasn't all gold; there were many hiccups along the way that added texture to his poems. Traveling helped to color his world and determine the kind of poet, and person, he wanted to be.
THOUGHTS: A delightful and inspiring novel-in-verse account of a young boy striving against almost insurmountable odds to find his place in a world that frequently rejected him. 
Realistic Fiction          Samantha Helwig, Dover Area SD