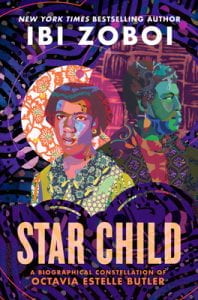 Zoboi, Ibi. Star Child : A Biographical Constellation of Octavia Estelle Butler. Dutton Children's Books, 2022. 978-0-399-18738-4. $16.99. Grades 6-8
Star Child is a biography that tells about the life of Octavia Estelle Butler, a famous African American science fiction writer told in various forms of storytelling. Ibi Zoboi uses poetry, short nonfiction essays, quotes from Octavia Butler herself, as well as some photographs from Octavia to demonstrate what her life was like growing up. At the end of the biography, Ibi has an essay about her personal connection to Octavia Butler and even includes a picture of when she met her! There is a list of Octavia Butler's books listed in the back, as well as Ibi's endnotes showing her research.
THOUGHTS: This was definitely a more unique format, especially as far as biographies go, and it was extremely well done! The author's genuine love of Octavia Butler, both as a person and as a writer is evident throughout the pages of this book. This is a wonderful introduction to an author that readers might not know a lot about. 
Biography          Mary McEndree, Lehigh Valley Regional Charter Academy