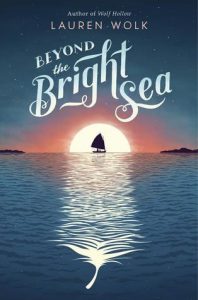 Wolk, Lauren. Beyond the Bright Sea.Dutton: 2017. 978-1-101-99485-6. 304pp. $16.99. Gr 4-7.
Twelve-year-old Crow is an islander through and through. She knows how to harvest mussels and lobsters, how to navigate a skiff through choppy water, and how to coax garden vegetables from rocky, sandy soil. But Crow is also full of questions, and none of them have simple answers. Why was she abandoned as a newborn and sent to sea alone in a small boat? Where did she come from, and why did she wash up on the shores of Massachusetts' Cuttyhunk Island? Who were her parents, and where are they today? When curiosity gets the best of her and Crow investigates a fire burning on a nearby deserted island, she sets into motion a chain of events that takes her on an incredible, and at times dangerous, journey as she begins uncovering answers to her heart's deepest questions. At her side are her adoptive father, Osh, and their kind-hearted neighbor, Miss Maggie, both of whom offer wisdom and advice as Crow pieces together her personal history.   THOUGHTS:  This title will satisfy fans of Wolk's Newbery Honor-winning Wolf Hollow. It is also beautifully written, and it's elegantly crafted sentences, perfectly sprinkled foreshadowing, and well-placed clues make it a good choice for a read-aloud.
Historical Fiction    Anne Bozievich, Southern York County SD
Twelve-year-old Crow is happy living on an isolated island off the coast of Massachusetts with her wise and loving foster father, Osh, who has taught her everything she needs to know: how to fish, how to set a lobster trap, how to garden, how to cook, how to row.  But, she still yearns to learn the story of her own life. Crow knows she washed up on the island on a skiff as a newborn babe, but no one knows for sure where she came from.  Like Osh, and unlike their close friend and neighbor, Miss Maggie, she isn't white. People think she might have come from the deserted nearby island of Penikese which used to harbor a leper colony. As a result, most of the other islanders, fearing Crow may be contagious, won't get close to her. Crow struggles to reconcile their hurtful behavior with the many good qualities she sees in them. Despite Osh's misgivings, Crow is determined to visit Penikese and learn the truth about her past. Crow's search for her heritage leads her little family straight into danger, and she, Osh, and Maggie all must wrestle with the problem of whether some questions are better left unanswered.  Hidden treasure, coded messages, and a terrifying villain all play a role in the story, and the stakes grow higher and higher as the pages are turned. THOUGHTS: Wolk's writing is unbelievably gorgeous; the book is worth reading simply for the pleasure of enjoying her finely crafted sentences. The story starts out slowly, but soon the pace picks up. By the middle it becomes a page-turner, and the ending is truly heart-pounding. A must-buy for middle school libraries, and a more-than-worthy follow-up to Wolk's Newbery-honor book Wolf Hollow.  
Historical Fiction     Maggie Bokelman, Cumberland Valley SD
Bell, Jennifer. The Crooked Sixpence. Crown Books for Young Readers, 2017. 978-0-553-49844-8. 309pp. $14.59. Gr 4-7.
After their grandmother takes a tumble and ends up in the emergency room, eleven-year-old Ivy and her fourteen-year-old brother Seb's world is turned upside down. They are whisked into a secret underground city called Lundinor that is hidden beneath the streets of London. Lundinor is filled with enchanted "uncommon" objects that have special powers. Colanders filter the air, bike bells chime navigational directions, and carrying a candle makes a person invisible. Lundinor is filled with traders, both living and dead,  who barter with each other, trying to acquire the most useful objects. When Ivy and Seb are arrested and their parents are abducted, they learn some important family history involving their grandmother's unexplained disappearance from Lundinor more than forty years earlier. They also learn about the most valuable uncommon object of them all, something called The Great Uncommon Good. Ivy and Seb are in a race against the clock, trying to locate this mysterious, powerful object before time runs out and their parents are lost forever. Readers will immediately be drawn into this adventure-filled fantasy, and they will root for Ivy and Seb as they try to clear their family name and hunt for one of the most powerful uncommon objects of them all. This is the first in a planned trilogy, and readers will be excited to hear how this fast-paced adventure continues in the story's next installment.   THOUGHTS: This title will be popular with both girls and boys who enjoy fast-paced action fantasy that is a little on the scary side.
Fantasy      Anne Bozievich, Southern York County SD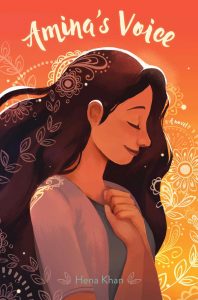 Khan, Hena. Amina's Voice. Salaam Reads, 2017. 978-1-48149-206-5  197pp. $16.99  Gr. 3-7.
Twelve-year-old Pakistanti-American Amina Khokar has a beautiful voice, but stage fright keeps her from sharing her gift. When her uncle insists she take part in a Quran recitation competition, Amina is petrified. Meanwhile, Amina's best friend, Korean-American Soojin, tells Amina she is thinking of "Americanizing" her name to "Susan," which leads Amina feeling threatened and unsure of her own cultural identity. Soojin's new friendship with a girl Amina dislikes doesn't help matters between them, especially when Amina makes a serious, though unintentional, mistake that further threatens their bond. However, when the local Islamic center is vandalized, Amina finds support where she least expects it, and discovers wells of courage within her she hadn't known existed.  THOUGHTS:  Amina is a charming, empathetic heroine dealing with growing pains that will be familiar to many middle schoolers–all told through the lens of a Pakistani-American/Islamic experience.  A delightful, not-to-be-missed read from a much-needed viewpoint.
Realistic Fiction           Maggie Bokelman, Cumberland Valley SD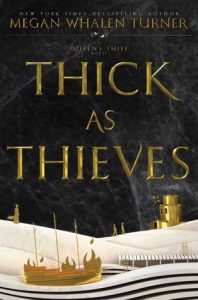 Turner, Megan Whalen. Thick as Thieves. Greenwillow Books, 2017. 978-0-06-256824-3. $17.99. 337 p. Gr. 6 and up.
Turner returns to Attolia and the world of the thief Eugenides with this stand-alone novel. Kamet is an ambitious slave in the court of Mede. He has position and power and enjoys both. The beatings by his master are an unfortunate price to be paid, and when a shadowy stranger offers him the opportunity to escape, Kamet indignantly turns him down. However when Kamet learns his master is dead, poisoned, he knows suspicion will fall on him and he flees. He accepts passage with the stranger , the Attolian, planning on parting company at the first opportunity. However, Kamet has never experienced life outside the palace and is poorly equipped to survive on the run.  He realizes he must depend on the Attolian to stay alive.  At the end of their journey, Kamet not only learns why the King of Attolia, Eugenides, desires his presence, but also discovers that the Attolian has become a friend.   THOUGHTS:  The joy of this book is the journey, both for Kamet and the reader. Turner's world-building is exquisite (and the thoughtful map on the endpapers is delightfully useful) and writing lovely. The reader knows no more than Kamet as to why the King of Attolia wishes to steal Kamet away from Mede, and what awaits him when he arrives in Attolia.
Fantasy    Nancy Nadig, Penn Manor SD