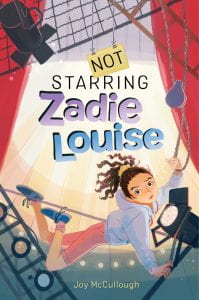 McCullough, Joy. Not Starring Zadie Louise. Atheneum Books For Young Readers, 2022. 978-1-543-39623-1. $17.99. 247 p. Grades 5-8.
Ten year old Zadie Louise Gonzales dreams of becoming an astronaut. When her family is unable to afford to  send her to science camp for the summer, she is forced to spend the summer putting on a show in her town's community theater. With a Mom who is a stage director and a sister who loves to perform, Zadie often feels like she has nothing in common with her family. Terrified to audition to be in the cast of the show, Zadie is stuck without much to do all day long. Her many attempts to be helpful fall short and create extra work for her Mom and the production staff. Zadie offers to help style wigs and accidentally uses spray adhesive instead of hairspray, ruining the wigs. An attempt to help paint set pieces results in wet paint getting all over the stage. Barrelling her way from one disaster to another has left Zadie at odds with her Mom and feeling useless. The Gonzales family is under financial strain. Musician Dad is forced to drive an Uber, and beloved Grandma Sooz is looking to find a new place to live so that the family can rent out her room. Worse yet, if Zadie's Mom doesn't impress the board of directors with a fantastic show, she may be out of work as well. Funny and quirky, this story also accurately depicts the pressure and strain of the family's financial situation. 
THOUGHTS: Teen and tween theater lovers will thoroughly enjoy this thoughtful and funny novel. The theater scenes, situations, and back-stage technology are very accurately portrayed. The story does not skimp on character development however. Zadie's confusion over her changing relationship with friends and family is heartfelt and very moving. Middle grade readers will relate to Zadie's desire to do the right thing despite continually bungling every attempt to be better.
Realistic Fiction          Anne McKernan, Council Rock SD