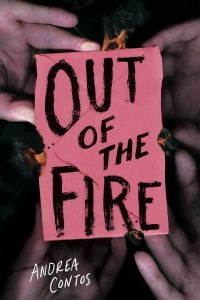 Contos, Andrea. Out of the Fire. Scholastic Press, 2021. 978-1-338-72616-9. 336 p. $18.99. Grades 9-12.
With her earbuds in, Cass Adams was out for a run on her usual path through the woods when she was grabbed and thrown into the trunk of a car. Though narrowly escaping an abduction, the police question Cass's story. Does she have a description of the man or car or any letters or numbers from the license plate? No, she was running for her life! Frustrated with herself for being so routine oriented, Cass tries to go back to her old life. Then the pink envelopes start arriving. Methodically placed where Cass will see them and in places no one else should have access to, the letters warn Cass that she's always being watched. The police wonder if Cass wrote them herself, but she knows they're from him. When an old friend reconnects with Cass over the shared experience of being wronged, Cass doesn't feel so alone. It's not long before they realize there are other girls who have been wronged too. And they want revenge. After not being believed by the police and not wanting to burden her overworked father, Cass decides to track down her kidnapper herself. But she can't do it alone, and to have help she has to open herself up to others and share things she may not be ready to face.
THOUGHTS: Mystery fans will devour this fast-paced thriller which is set during a two week time frame. Hand this one to readers who enjoy April Henry and Karen McManus titles.
Mystery          Maryalice Bond, South Middleton SD