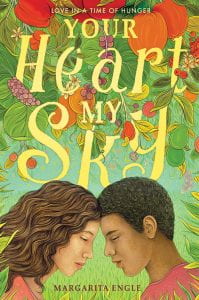 Engle, Margarita. Your Heart, My Sky. Simon & Schuster, 2021. 208 pp. 978-1-5344-64964 $18.99 Grades 9-12.
Engle focuses on a difficult time in Cuba's history lived through by her own relatives. Euphemistically named by the government as "the special period in times of peace," the 1990s are in reality a time of starvation. Strict rules keep Cubans from growing their own food; U.S. embargo limits trade; and most recently, Russia has dropped its promised support of the Communist nation, leaving commoners struggling for daily food and afraid to speak out, knowing that retribution comes in the form of limited opportunities, fewer rations, prison or death. Two young people, Liana and Amado, find their hunger gives them strength to defy the government-required summer volunteer work, even as they dread the consequences. Amado's older brother is in prison for speaking out against the government. Liana is befriended by a 'singing dog' Paz who becomes her daily companion in search of food, and the dog brings her and Amado together. The two fall in love and consider their limited future options. Leave the island for the dangerous attempt to reach Miami? Or remain in their homeland to share and fight the deprivation with loved ones? Engle's beautiful verse, and switching between Liana, Amado, and Paz's voices, gives this novel depth and richness. 
THOUGHTS: Moving words bring to life this time of desperation.       
Historical Fiction          Melissa Scott, Shenango Area SD