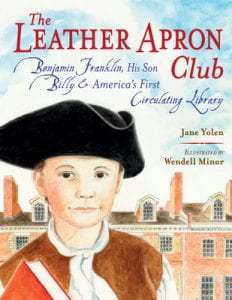 Yolen, Jane. The Leather Apron Club: Benjamin Franklin, His Son Billy and America's First Circulating Library. Charlesbridge, 2021. Unpaged.  978-1-580-89719-8. $17.99. Grades 2-4.
This latest offering by Jane Yolen is a picture book biography of Ben Franklin's oldest child, William. Told in first person by Billy, the story explores his days as an eight year old apprentice, helping his father in their print shop. Although he enjoys the work, Billy would rather be outside playing with his cousin James. Ben has enough of his son's wild ways and hires a tutor to provide instruction to both boys. At first, they find their schooling boring, until the day the teacher begins reading Homer's The Odyssey.  Unlike James, William is captivated by the tale and wants to hear more. Soon he begins reading the epic on his own. His father tells his son that there are many other wonderful books like this at the Leather Apron Club. The pair visit the circulating library, the first of its kind, and Billy is amazed at the number of books and their brightly colored covers. Soon he meets other members of the club and participates in discussions with them about politics, history, finance, among other topics. The young Master Franklin observes that "…Books…opened up Worlds once closed to me…" and he vows to "Do More." to do good in the world. The text is written according to the capitalization rules of the 18th century, meaning that even most common names begin with a capital.  Sprinkled throughout the story are fitting quotations from Poor Richard's Almanac. Wendell Minor's watercolor illustrations are done on a large scale and bring the story to life. The back matter contains an author's note with more information about William's adult life, the Leather Apron Club, and Franklin's almanac. Yolen states that she got the idea for this book after hearing a speaker discuss the Leather Apron Club and its lending library at the White House. 
THOUGHTS: Children will enjoy listening to this story of a famous American's son, although they may be surprised to learn which side he supported during the American Revolution. It works in social studies units as an introduction to Colonial America and will be appreciated by history buffs. Yolen's picture book is a tribute to the power of libraries and books and is a worthwhile purchase for all elementary collections.
Biography          Denise Medwick, Retired, PSLA Member
973.30922  Personal Narratives–American Revolution