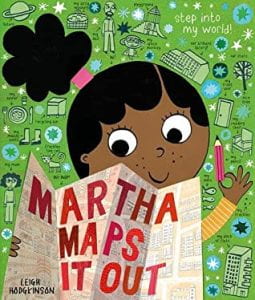 Hodgkinson, Leigh. Martha Maps it Out. Kane Miller, 2022. 978-1-684-64412-4. $14.99. 40 p. Grades PK-3.
Martha greets the day and the universe with a bright hello as she explains her place within the universe. Martha creates a series of maps showing our solar system, Earth, Martha's city, street, apartment building, apartment, and room. Martha then creates a mind-map of her thoughts, dreams, aspirations, and questions, again expanding her viewpoint to the entire universe. As Martha bids the universe good-night, it is clear Martha has a world of opportunities and adventures to explore as she grows up. Bright and colorful illustrations with nonfiction text features (maps, keys, labels, captions, etc.)  creatively are woven throughout.  
THOUGHTS: A spunky and fun look at the world through the eyes of a young child. The weaving of Martha's fictional story with nonfiction text features is perfect for teaching about these devices. The mind-mapping sequence is particularly intriguing, and is an element not often included in typical books about maps and nonfiction illustrations. A great STEAM resource.
Picture Book          Anne McKernan, Council Rock SD