Sedoti, Chelsea. The Hundred Lies of Lizzie Lovett. Sourcebooks, 2017. 978-1-492-63608-3. 400 p. Gr. 9 and up.
While the bigger picture items (depression, bullying, teen suicide, growing up/apart from friends, and feeling like you don't fit in anywhere) are very compelling, the whole werewolf thing is a distraction. I kept expecting Hawthorn to be diagnosed with something and didn't enjoy that aspect of the story. Not many high school seniors will make up convoluted fantasies to deal with stress. I stuck with it through the end, but I don't know that many teens will be as dedicated. Love the cover, though!
Realistic Fiction       Maryalice Bond, South Middleton School District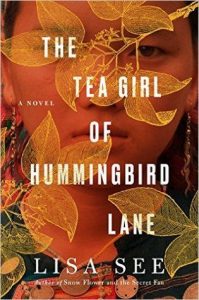 See, Lisa. The Tea Girl of Hummingbird Lane. New York: Scribner, 2017. 978-1501154829. 384 p. $27.00. Gr. 11 and up.
Lisa See has done it again, writing a beautifully nuanced and wonderfully engaging story of mothers and their bonds with daughters. The story begins with Li-yan, a young girl who is a member of a small ethnic minority, the Akha, that live in the mountains of southern China. Their livelihood is dependent upon the tea trees that cover their mountain. Li-yan is to inherit a special grove of trees passed down among the women in her tribe.  Li-yan attends a local school, and yearns to experience life beyond her tiny mountain. Soon, however, she becomes involved with a boy from a nearby tribe, and this relationship results in pregnancy. Normally, the pregnancy would be aborted since the couple is not yet married, but Li-yan refuses to let that happen, trying to keep her growing belly a secret. Her mother takes her to their private tree grove to give birth, and Li-yan takes the baby to an orphanage, leaving her with a small cake of tea leaves wrapped in paper. The girl is quickly adopted by a couple from California. The story is interspersed with small chapters about the childhood of the girl, who her parents name Haley, as she struggles with understanding why her birth mother did not want her. Her storyline highlights the difficulty of assimilating into another culture through adoption. In China, Li-yan marries the man she fell in love with, but their story is cursed from the start. She eventually ends up at school and learns more about her beloved tea. The reader will be appalled by the archaic traditions practiced by the Akha, but See does an excellent job of making their livelihood understood, looking at it through Li-yan's changing eyes yet loving heart. See obviously did extensive research on both the Akha and the process of making tea as well as the culture of tea in China.  Li-yan is strong but humble, and searches throughout her life for meaning, love, and forgiveness. THOUGHTS: This is an excellent story to give to students interested in tea, China, and/or adoption from another country. Highly recommended for mature teens and adults.
Realistic Fiction    Lindsey Myers, Shadyside Academy
I absolutely loved this book. Not only was it an introduction to a new culture in China, but it was also an interesting presentation of the adoption process and what young children of other cultures go through when they are adopted into white American families. I have always enjoyed Lisa See's novels, but this one stands out as a favorite. When I was towards the end, I often found myself wishing that the story would go on and on, as I wanted to stay with the characters and see their stories continue to grow and evolve.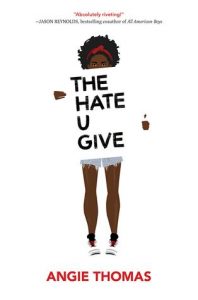 Thomas, Angie. The Hate U Give. Balzer & Bray/HarperTeen, 2017. 978-0-062-49853-3. 444 p. $17.99. Gr. 9 and up.
Starr may seem like the average teenage girl; she plays sports, likes spending time with her friends, and occasionally fights with her boyfriend, but she's actually living a double-life.  Starr is torn between who she thinks she wants to be and who she thinks she should be.  While Starr lives in a poor, all-black neighborhood with gangs and drive-bys (to which she's already lost one childhood best friend), she attends a rich, mostly-white prep school where stereotypes are so commonplace that she tries to blend in as much as possible to avoid being one, causing her to contemplate what it truly means to be black in today's society.  Starr's parents educated her and her brothers about racism when they were younger, even outlining specific possibilities they themselves may encounter, but this never stopped Starr from giving people the benefit of the doubt.  That is, until tragedy strikes and yet another childhood friend is killed; this time at the hands of the very people meant to keep us safe, the police.  When the young man is labeled as a drug dealer and a "thug", laying the groundwork for a cover-up of this heinous crime, it is up to Starr to finally decide which life she wants to lead and how important she is to ensuring equality and justice for all.  THOUGHTS: Poignant. Thought-provoking. Powerful. Heartbreaking. Thomas writes an incredibly impactful story of race and culture that sadly rings so true today, shining a very bright light at racism, gang violence, drug dealing, interracial dating, and other parts of our society that many turn a blind-eye to. I cannot find the words to adequately explain how important this story is, except to say that while Starr and Khalil are fictional, their experiences unfortunately are not. Read this book. Then share it. I, for one, will be adding it to my high school library collection and putting it on display, front and center.
Realistic Fiction           Sandra Reilly, Pleasant Valley School District
Geiger, A.V. Follow Me Back. Sourcebooks Fire, 2017. 978-1-492-64523-8. 368 p. $10.99. Gr. 9 and up.
Something happened to Tessa that made her an agoraphobic; she hasn't left her house, more specifically her room, since she returned from New Orleans in June. She has limited access to the outside word and relies on her phone, Twitter, and Wattpad. Tessa feels safe in the anonymous world writing fanfiction about Eric Thorn.
Eric Thorn was thrown into the spotlight when he rocketed to the top of the music charts, gaining instant fame and a lot of fans. Eric feels trapped by his recording contract and his fame. Since a fellow singer was murdered by a crazed fan, Eric has become fearful of his fans and bitter about the life he is forced to live.  Among his tons of fans, Eric connects with Tessa on Twitter. They both feel a connection with each other and look forward to their daily DM conversations. Meeting in real life is a risk for both of them, but is it one they should take?
THOUGHTS:  Set in the present and the past, readers are given bits of the story as told by Tessa and Eric, their tweets and direct messages, and their police interviews. This fast-paced drama will attract those of the tech generation. While the terminology may become outdated as technology changes, this book will fly off of the shelves today.
Realistic Fiction       Maryalice Bond, South Middleton School District