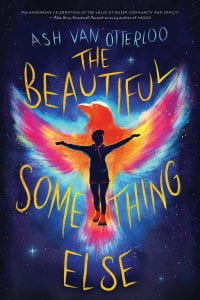 Van Otterloo, Ash. The Beautiful Something Else. Scholastic Press, 2023. 978-1-338-84322-4. 288 p. $17.99. Grades 3-7.
Sparrow Malone, who's birth name is Magnolia Grace, realizes they don't quite tick any one gender box in this middle grade novel about family, identity, and growing up. Sparrow's mom, Abigail, is very protective and insists Sparrow dons dresses and frills, but Abigail is also dealing with her own addiction to opioids. After a car accident, mom is sent to rehabilitation, and Sparrow is sent to live with her Aunt Mags. Aunt Mags lives on the grounds of Windy Hill, the huge estate where Sparrow's mother also grew up. However, Aunt Mags has transformed Windy Hill into a rainbow-colored safe haven for gardeners, college students, and professors from a nearby university. While meeting friends, neighbors, and family, Sparrow begins to form a new understanding of the LGBTQIA+ community that Abigail seems to fear. Sparrow soon realizes they aren't quite fitting the mold that Abigail desires in a daughter. The question is: will Sparrow feel empowered enough to tell their mom how they feel? Or anyone else?
THOUGHTS: The Beautiful Something Else is a great addition to diverse middle grade library collections. The characters in this book are layered and diverse, and the feelings Sparrow experiences are written realistically as they realize their nonbinary identity. A "shadow" (think: Peter Pan) is introduced throughout the book as a fantastical character that causes Sparrow to explore their identity and own their feelings. Otherwise, the book is wholly realistic fiction. While the book would be equally as strong without its "shadow," this element is a good metaphor for readers to realize there is something itching at Sparrow and following them around. In this case, it's simply the need for Sparrow to be true to themself. Written with care for middle grade audiences.
Realistic Fiction