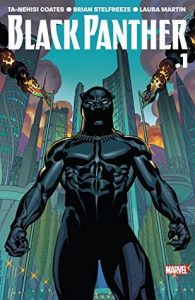 Coates, Ta-Nehisi. Black Panther: A Nation Under Our Feet. New York: Marvel, 2016. 978-1-302-90053-3. $16.99. Gr. 7-12.
Fresh from winning the National Book Award for Between the World and Me, Ta-Nehisi Coates takes on the story of Marvel's Black Panther. People are restless in the African nation of Wakanda. They are unhappy and angry with their long standing leader, T'Challa, Black Panther, and are rising up in revolt. He is determined to stop the ones responsible for this revolt, Zenzi and Tetu, and bring peace back to his nation. With the help of flashbacks, readers are shown the bloody history of Wakanda and the hard times Black Panther has faced as leader. Brian Stelfreeze's incredibly vivid artwork shines as Wakanda's history unfolds. But perhaps the best part of this graphic novel are a few other hidden gems, including variant images of Black Panther by different artists throughout the story; a detailed Black Panther chronology, and a behind the scenes glimpse into the graphic novel creation; and a recreation of the first appearance of the Black Panther from a 1966 issue of the Fantastic Four. THOUGHTS:  If graphic novels are even the least bit popular in your library, buy this. With a Marvel Black Panther movie in the works for 2018, and his recent appearance in the Avengers: Age of Ultron movie, this will fly off your shelves.
Graphic Novel     Vicki Schwoebel, Friends' Central School
Larson, Hope. Goldie Vance: Volume One. Boom! Box, 2016. 978-1-60886-898-8. $9.99. 112p. Gr. 6-12.
Goldie Vance splits time between her divorced parents; her mother is a mermaid at a downtown club, and her father is the manager of a first class resort hotel in Florida, The Crossed Palms. In addition to valeting cars, sixteen year old Goldie also assists the in-house Detective, Mr. Tooey. Detective work is her passion, and she hopes one day to become the head detective. When a hotel resident goes missing, Goldie must track down elusive clues and hot leads to solve the case and prove to Mr. Tooey that she can be a valuable assistant. But her love for curiosity soon gets her into trouble, and gets both she and her father fired from The Crossed Palms. Together with her best friend Cheryl, Goldie's crush Diane, and a handful of other friends, Goldie's sets out to solve a seemingly unsolvable mystery. THOUGHTS: An excellent addition to any middle grade or teen graphic novel collection. Goldie Vance provides a refreshing array of diverse characters in a retro style, while also offering a fun story line and engaging drawings.
Graphic Novel       Vicki Schwoebel, Friends' Central School