Kalman, Bobbie. Animals that Live in Social Groups. New York: Crabtree Publishing, 2016. 978-0-7787-2787-3. 32 pp. $16.99. Gr. 3-5.
Did you know that a group of lemurs is called a conspiracy? This beautiful non-fiction book describes several animals that live in groups.  These include dolphins, lions, baboons, elephants and more.  Students will love the bold, real photographs with interesting captions that fill each page.  This book also includes important text features such as a table of contents, glossary, and index to assist students as they navigate through a non-fiction text.  The text is clear and easy to understand with thought provoking questions and quizzes that test how well you read an animal's non-verbal expressions.  THOUGHTS:  This is a great addition to a non-fiction library or a unit about animals and their interactions.  Students will love the strange names for some of the groups (like a murder of crows) .  This book adds another layer to the study of animals and their habitats and interactions.
Animals     Donna Fernandez, Calvary Christian Academy
Katz Cooper, Sharon. When Whales Cross the Sea: the Gray Whale Migration. North Mankato, MN: Capstone, 2016. 978-4795-6079-0. 32 pp.  $16.99. Gr. K-3.
When Whales Cross the Sea: the Gray Whale Migration is a picture book account of one whale's migration from her summer home in the Arctic Ocean to her winter home off of the coast of Mexico.  With beautiful illustrations, the whale's trip is chronicled as she feeds and prepares, and then embarks on her long journey.  The wording is magical and yet descriptive as in this line describing the whale's layer of blubber. "It's like a coat and a restaurant in one. The blubber keeps the whale warm and gives her energy."  This is a wonderfully simplistic look at the preparations, possible dangers, and sweet birth of her baby in the warm waters of Mexico. This book also includes some "Fast Facts" about Gray Whales, a glossary, Critical Thinking questions aligned with Common Core Standards, and suggestions for more reading about the subject. THOUGHTS:  This book is a great read aloud for a unit on whales for a Kindergarten or First Grade class.  As each step is taken, students can follow and then try to put the steps of the whale's journey in order at a center or on a smartboard.  Teachers can also use the critical thinking questions provided to guide discussion further.
Whales (Picture Book)     Donna Fernandez, Calvary Christian Academy
Kalman, Bobbie. Symbiosis: How Different Animals Relate. New York: Crabtree, 2016. 978-0-7787-2785-9. 32pp.  $16.99. Gr. 3-6.
The relationships between some animals are helpful, while others are harmful.  This book explores the four types of symbiosis; mutualism, commensalism, parasitism, and predation.   Using full color photographs and captions, the author describes various types of beneficial and non-beneficial relationships in the animal world. The text often asks questions that remain unanswered, forcing a student to explore or research further to find out.  Critical thinking questions are sprinkled liberally throughout. Even human factors like bacteria and probiotics are discussed.  The text includes a table of contents, glossary and index to help students navigate this information rich text.  THOUGHTS:  This book is a helpful addition to a library collection of books about animals and their interrelationships.  Symbiosis is a complicated concept, but this book begins to help bring a clearer understanding of the different types of animal relationships.  A teacher might use some of the critical thinking questions as writing prompts to encourage students to synthesize information already learned in the unit.  Several examples of each type of symbiosis are used allowing for a variety of discussions over a variety of biomes.
Animals     Donna Fernandez, Calvary Christian Academy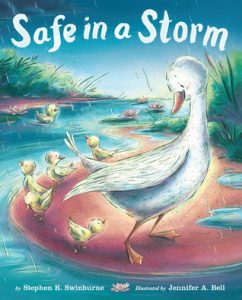 Swinburne, Stephen. Safe in a Storm. New York: Cartwheel Books, 2016. 978-0-545-86792-4. Unpaged. $10.99. Gr. PreK-K.
Swinburne's simple story discusses different animals seeking shelter during a storm, with the parent offering reassurances to its youngsters that they are safe. Bell does a lovely job combining the dark skies and angry storm with warm scenes of animal families embracing or snuggling to keep dry during the storm. This is a great book to share one-on-one, snuggled up on a dreary day. THOUGHTS: A sweet story to share with youngsters who don't like storms or just need a reminder that they are loved.
Picture book     Lindsey Long, Nye & Conewago Elementary Schools