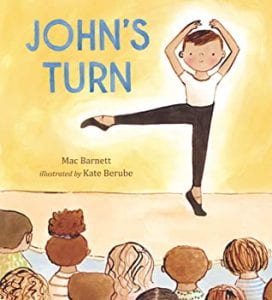 Barnett, Mac. John's Turn. Candlewick Press, 2022. 978-1-536-20395-0. $17.99. 32 p. Grades PreK-3.
Every Friday John's school has a morning assembly with announcements, activities, and guest speakers. If the students are well-behaved during the assembly, then one student may perform. This performance is called "Sharing Gifts." Many students do not like the name, but all of the students enjoy seeing each other perform. Today it is John's turn, and he plans to dance. Students wait attentively for John to prepare for his performance. John is nervous and unsure at first. Kids snicker at the classical music as his performance begins. John is tentative at first, but then begins to relax and enjoy performing. There is stunned silence as he finishes his dance. For a brief second the reader will worry that this will not end well for John; that perhaps he will be shamed for performing ballet in his "Sharing Gifts" performance. And then the students rise to their feet to cheer and applaud.
THOUGHTS: This book is perfect in its simplicity. This is a very straightforward story that beautifully invites discussion about talents, interests, acceptance, and diversity. Kate Berube's illustrations are gorgeous. The three full-page wordless spreads show John's transformation from a nervous performer to joy-filled dancer are absolutely splendid.
Picture Book          Anne McKernan, Council Rock SD
This is a simple but powerful story of a child sharing their gifts with their community. John's elementary school has an assembly every Friday, and one component of that assembly, to be earned if students behave well, is a segment called "Sharing Gifts," in which students share their talents with the school. The story focuses on John's turn to share. He is nervous and excited to share his ballet with his classmates, and their initial reaction of laughter and comments is to be expected… but then John danced, and the clapping began.
THOUGHTS:  This is a wonderful story about being oneself and the courage that it can take. Kate Berube's illustrations present a diverse audience of John and captures movement, joy, and growing confidence in his dancing. A strong selection that can be enjoyed by all as well as one used to create classroom community for show and tell and talent shows.
Picture Book          Hannah J. Thomas, Central Bucks SD