Keating Jess. Nikki Tesla and the Ferret-Proof Death Ray. Scholastic, 2019. 978-1-338-29521-4. 277 p. $16.99. Grades 3-7.
When a book opens with the accidental firing of a death ray, you know you are in for a fun ride, and Jess Keating does not disappoint. Young Nikki Tesla is a mechanical whiz and scientific genius. But mom has warned her before about blowing up the house (technically it was more vaporizing), and this time there are consequences. Nikki's mom wants her to attend a school for geniuses, where Nikki can experiment to her heart's content and meet other prodigies her age. This is where Nikki balks. She has a bad track record with making friends; she has been home-schooled to avoid the bullying and teasing. Nikki reluctantly agrees, but is sure she is going to be sent home when the orientation activity requires her to work as a team with the other six students at the school, Al Einstein, Mary Shelley, Leo DaVinci, Charlie Darwin, Mo Mozart, and Grace O'Malley. Soon after surviving orientation, Nikki learns the true purpose of the elite group is to save the world, and their skills are immediately tested when Nikki's Death Ray is stolen from the school's arsenal. The seven youngsters take off on a globe trotting whirlwind, attempting to catch up to a diabolical madman who may be hitting too close to home for Nikki. This series opener hits the ground running and never lets up. While not all the characters are fleshed out yet, Nikki is well crafted. Her inability to trust her new friends, along with her damaged self esteem, almost cost the group their mission, but in the end Nikki relies on the group to save the day and the world.
THOUGHTS: An edge-of-your-seat series opener that ends with a shocker cliff-hanger. Readers will be begging for the next book.
Action Adventure          Nancy Nadig, Penn Manor SD
---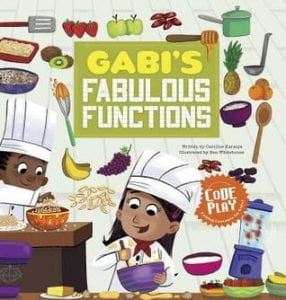 Karanja, Caroline. Gabi's Fabulous Functions. Capstone, 2019. 978-1-515-82743-6. Unpaged. $27.72. Grades 1-5. 
Gabi and her friend Adi are busy in the kitchen making Gabi's father a special meal for his birthday. As they follow the recipe, the two girls notice the similarities between following a recipe and functions in coding. The girls input berries, yogurt, and granola, and the output is a parfait. The two even create a input/output machine to "create" the different dishes for dad, who happily gobbles up the "output." The simplistic story is successful as a way to explain the challenging concept of functions in terms most students will understand. As an added bonus, it features female coders of Hispanic and African American ethnicities. 
THOUGHTS: Consider purchasing where coding is taught, or students have an interest in coding. 
005.1 Computers          Nancy Nadig, Penn Manor SD
---
John, Jory. The Good Egg. Harper, 2019. 978-0-062-86600-4. Unpaged. $17.99. Grades K-3.
Jory John follows his delightful book The Bad Seed with The Good Egg. Egg has always been good, as far back as when he was living in the store with his 11 siblings. But Egg was frustrated with the bad things his siblings did, and was one frazzled egg trying to fix their messes. Soon he felt like he was cracking up. So, Good Egg leaves home to get away from the pressure of having to be so good. He learns to think about what he wants and needs, and eventually decides to return home to his siblings. Given the popularity of The Bad Seed, this book will have an immediate following. Children will enjoy Pete Oswald's illustrations, and the cautionary tale of trying to be too perfect will make for interesting discussion. 
THOUGHTS: This will be a must have where The Bad Seed was popular. 
Picture Book          Nancy Nadig, Penn Manor SD
---
Hernandez, Carlos. Sal and Gabi Break the Universe. Rick Riordan Presents, 2019. 978-1-368-02282-8. 382 p. $16.99. Grades 3-6.
Sal is having a hard time adjusting to his new Miami school for the arts. He is in the principal's office for the third time in three days when he meets Gabi, a whirling dervish of a girl who, as student council president and editor of the school paper, knows everything about everybody. So she makes it her new mission to know Sal, and there is a lot to know about Sal. A type-1 diabetic with a passion for sleight of hand, Sal also has the unique ability to reach into other universes, even somehow conjuring his dead mother to cook Cuban food for him. Sal needs to learn how to control his ability before he permanently disturbs the Universe. Gabi is dealing with a seriously ill infant brother. Can the two precocious kids navigate friendship and family without breaking the universe? This book covers much territory, from diabetes, to magic to bullying, but ultimately, the story is about family, in all its many forms. Sal grieves his lost mother, and learns how to navigate his new family with his American Stepmom. Gabi's family includes her multiple, unique dads (even a robot dad), as well as her baby brother. And Sal learns not all families are the safe haven they should be, and then friends become family. Filled with Cuban culture, mouth-watering food and loud, exuberant characters, this book invites every reader to become a member of the family and enjoy the cosmic ride with Sal and Gabi. 
THOUGHTS:  A must have for middle grade collections. This breathless journey through the multiverses will have readers clamoring for the next book in the series.  
Science Fiction          Nancy Nadig, Penn Manor SD
---
Gonzalez, Raúl. ¡Vamos! Let's Go to the Market. Versify, 2019. 978-1-328-55726-1. Unpaged. $14.99. Grades 1-3.
Little Lobo and his dog, Bernabé, have a lot to do today, and we are going to ¡Vamos! with them, learning Spanish as we go. This cheery story immerses readers in Spanish vocabulary as we weave our way through the busy mercado. The pages are saturated in terra cotta hued colors. Speech balloons contribute narration largely in English, while the illustrations and insets seamlessly provide Spanish vocabulary in context. Captions within the busy pictures supply additional Spanish terminology. While the plot is  minimal, children could spend hours examining the exuberant illustrations, soaking up Latino culture as well as language. However, the author does not inform the reader as to what country the story takes place. A bare bones glossary is provided at the end of the story, (without pronunciations) but does not contain all the Spanish words used in the book. Readers are urged to look up additional words in a Spanish/English dictionary.
THOUGHTS:  A clever, entertaining way to introduce Spanish language and Hispanic culture to young readers. The illustrations have a Where's Waldo quality that will engage readers, and those interested in learning some Spanish will enjoy poring over the book again and again.
463 Spanish Language          Nancy Nadig, Penn Manor SD
---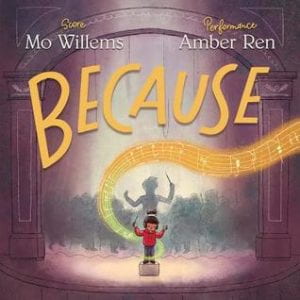 Willems, Mo. Because. Hyperion, 2019. 978-1-368-01901-9. Unpaged. $17.99. Grades K-3. 
Because is a very unusual offering from the author of such perennial favorites as Elephant and Piggy and Pigeon books. Because shows readers the power of a moment, and, like the familiar cliche of a butterfly flapping its wings, how it can change a life. In this case, because a composer inspired another musician to compose, a young girl eventually is taken to the symphony and is enthralled by the world of music and beauty opened to her. Quiet illustration by Amber Ren accompany Willem's sparse but powerful text, guiding us through the chain of events (and a little luck, too, Willems points out) leading to the heartwarming conclusion of the story. The musically inclined reader will delight in the book's endpapers, which reproduce portions of the two musical scores which bookend the story. The book makes a lovely read-aloud, but it also begs to be used as a creative prompt with students of any age.
THOUGHTS: A thoughtful story that will surely set young imaginations soaring. Be sure to share it with classroom teachers as well as youngsters. 
Picture Book          Nancy Nadig, Penn Manor SD
This is a beautiful book about those unexpected events that change our lives. It follows the build up to a night at the symphony, introducing the reader to everyone who makes such the night possible, from the composer who wrote the music to the event planners, musicians, train conductors, and ushers. Each person is as important as the next, and they all come together to make this one event happen. Because all this happens, one little girl is forever changed.
THOUGHTS: This book gave me chills. I love all the people who made the event happen and how beautifully everything is portrayed. There's also an online video about the inspiration and creative process behind the book. And be sure to look in the end pages to learn more.
Picture Book          Emily Woodward, The Baldwin School