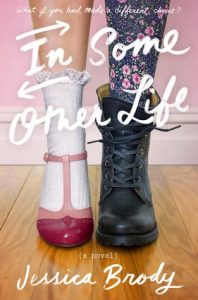 Brody, Jessica. In Some Other Life. Farrar, Straus and Giroux, 2017. 978-0-374-38076-2. 464 p. $17.99. Gr. 10 and up.
It's hard not to go through life – at least parts of it – without wondering "what if?" Kennedy has gone through high school and achieved great things for herself. She's editor of her award winning high school newspaper and has big plans for college and her future career. But she always has the nagging "what if?" in the back of her mind. What if she hadn't chosen public school over the elite private school she wanted to attend?  After witnessing her boyfriend and bestfriend kissing, Kennedy has a bit of a meltdown and eventually rushes to the campus she could have attended. What if she had chosen differently and skipped the possibility of a relationship? While getting a glimpse into what could have been, Kennedy is knocked over and bumps her head. When she wakes up her world flips upside down, and the choice she wishes she had made years ago is suddenly a reality. Kennedy has to realize that things aren't always what they seem, and the grass isn't always greener on the other side.  THOUGHTS: I loved this sweet "what if?" story. It goes a long way in showing readers that things aren't always what they seem – in life and in the happy, smiling posts they see on social media. Life isn't always sunshine and happiness. For all the readers who have ever wondered what if I made a different choice, this is a great read!
Realistic Fiction      Maryalice Bond, South Middleton SD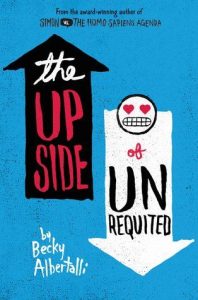 Albertalli, Becky.  The Upside of Unrequited.  Balzer + Bray, 2017.  978-0-06-234870-8. 340 p.  $17.99.  Gr. 9 and up.
Although Molly Peskin-Suso has had many crushes, she has never had a boyfriend. In fact, she has never even kissed a boy. When her twin sister Cassie starts dating a girl named Mina, the two are determined to set Molly up with Mina's cute hipster friend, Will. Molly, however, finds herself intrigued by her geeky coworker, Reid. Will one of these boys, Will or Reid, become Molly's long-awaited first boyfriend and first kiss? Readers will sympathize with Molly as she struggles to sort out her thoughts and feelings about love, dating, and relationships. THOUGHTS: One of the most notable features of this book is the amount of diversity in its cast. There are characters of various races, body sizes, religions and sexual orientations. Molly, the main protagonist, suffers from anxiety. This diverse cast, along with the book's familiar themes of dating, love, body image, family, and friendship, make it an easy title to relate to. The humor and honesty with which it is written will keep readers coming back for more. Give this to fans of Jenny Han or Sarah Dessen. Beware, however, that the book contains a great deal of swearing and talk about sex, making it more appropriate for high school readers.
Realistic Fiction      Julie Ritter, Montoursville Area SD
Albertalli, Becky. The Upside of Unrequited. Balzer & Bray, 2017. 978-0-06-234870-8. 352 p. $17.99. Gr. 8 and up.
Becky Albertalli's sophomore effort, The Upside of Unrequited, is just as delightful, irreverent, and charming as her first novel, Simon Vs. the Homo Sapiens Agenda. Molly believes she's just an average girl, especially when she compares herself to her beautiful, shining star of a twin sister, Cassie. Despite Cassie's insistence that anybody would be lucky to have her, Molly staunchly refuses to put herself out there, despite her 26 crushes over the years; the idea of rejection is just too unpalatable, and since she's a self-described "fat girl", way too likely.  This book has a lot going on – twin dynamics, sibling dynamics (they have a baby brother), wedding drama (Cassie and Molly's moms are engaged), romantic entanglements, uncool footwear, pansexuality – but Albertalli juggles it all with grace, humor, and empathy.  Readers will cheer Molly on as she finds her courage, and figures out what she's really looking for. An absolute joy of a read. Thoughts: Albertalli has a gift for writing infinitely relatable, likable characters; Molly is the perfect blend of teenage cynicism, angst, self-doubt, and naivety, and she will resonate with anyone who has ever had a crush or felt the crushing weight of rejection.
Realistic Fiction       Lauren Friedman-Way, The Baldwin School
Lord, Emery. The Names They Gave Us. New York: Bloomsbury, 2017. 978-1-61963-958-4. 388 p. Gr. 7 and up.
This is a book about the power to shift your perceptions, and the lasting impact it can have on your life.  Lucy is secure in her faith; her father is a pastor, and Lucy genuinely enjoys going to church each week, and she especially looks forward to being a counselor at Bible camp each summer.  However, after learning that her mother's cancer has returned, Lucy's faith is completely shaken.  Her parents convince her to try a new camp this summer, Daybreak, a camp for "troubled" kids, where her mom believes she'll find solace and kinship. Lucy is skeptical, and after her rocky start, she's sure she'll never fit in, or be any help to anybody. Thankfully for Lucy, her fellow counselors are welcoming and forgiving; Lucy finds that the more open she is with them, the more open they are with her. These diverse teens challenge everything she thought she knew and believed; it's a pleasure to watch Lucy's transformation as she explores what it means to be a true friend. When Lucy discovers something shocking about her mom's past, connected to Daybreak, it will test her literal new found faith, and her new relationships. Thoughts: Every teenager should read this book to learn about what compassion looks like, and what allyship looks like, as Lucy expresses and embodies both.
Realistic Fiction    Lauren Friedman-Way, The Baldwin School