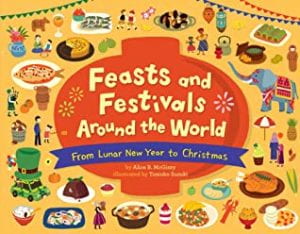 McGinty, Alice B. Feasts and Festivals Around the World: From Lunar New Year to Christmas. Illustrated by Tomoko Suzuki. Little Bee Books, 2022. 978-1-499-81217-6. Unpaged. $18.99. Grades PK-3.
Feasts and Festivals Around the World takes readers on an exploration of thirteen celebrations in twelve countries around the world, touching every continent but Antarctica. Loosely arranged by season, the book covers holidays with fixed dates (St. Patrick's Day, Songkran, Mid-Summer, Australian Christmas, Day of the Dead, Feast of the Seven Fishes, and Hogmanay) and those whose dates vary (Lunar New Year, Eid al Fitr, Eid ul Adha, New Yam Festival, Chuseok, and Thanksgiving). Each celebration is briefly introduced by 6-8 lines of rhyming text on the leading page of a double-page spread, then elaborated upon with one-two paragraphs of additional information on the trailing page. Tomiko Suzuki's illustrations compliment the text on each spread with a collage of traditions and foods for each celebration.
THOUGHTS: Feasts and Festivals shares interesting information about each holiday, and its illustrations are a simple and engaging compliment to the text on each spread. While this book is unlikely to be a casual read for young learners, it provides a strong launch point for holiday and country research as well as a wonderful option for students interested in holidays and curious about other countries. By including a wide variety of celebrations, the book provides an expanded opportunity for our learners to see their traditions represented in the pages of a book as well as to expand their horizons. The only shortcoming is possibly the dominance of Christian celebrations to the absence of a profile of Jewish celebration. Other strengths, however, make this book a recommended read.
394.2 Customs–Special Occasions          Hannah J. Thomas, Central Bucks SD