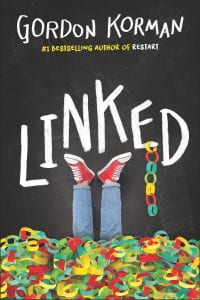 Korman, Gordon. Linked. Scholastic Press, 2021. 978-1-338-62911-8. 246 p. $17.99. Grades 5-8.
Chokecherry, Colorado is a small town on the up and up – could even be the next Orlando! While paleontologists from a prestigious university are attempting to locate dinosaur fossils after dinosaur poop is discovered, a swastika appears painted on an atrium wall in the local school. The principal is determined to put an end to the hateful act by starting a unit on tolerance and after three weeks is confident that the event was a one time thing. But when a second and a third swastika appear, it looks as if the past of Chokecherry may be coming back into focus. The students of the school take it upon themselves to support one another and learn more about the Holocaust in order to fight back. An idea to start a paper chain that is six million links long, one link for each person who died during the Holocaust, becomes their primary focus. Lincoln Rowley, the popular athlete, helps round the troops and with the help of the student council and art club presidents, their huge undertaking begins. But when a local media star shows up, hoping to expose the town's past while highlighting the paper chain, things get complicated. Told in different perspectives, this novel has twists and turns that will keep you reading!
THOUGHTS: Another hit by Korman, this title touches on a sensitive subject, antisemitism and the KKK. The characters each struggle with an inner demon which must be addressed before they can truly accept themselves and others. More somber than some of Korman's other works, Linked has a balance of humor, hope, and sadness for how others treat people that are different from them. 
Realistic Fiction        Jillian Gasper, Northwestern Lehigh SD
Chokecherry, Colorado is not exactly a tourist destination. The small town does not have a whole lot going for it except for newly discovered dinosaur fossils which bring archeologists from a big city university to the area. Most people are content for the town to go unnoticed until an unfortunate event brings national press: Someone has drawn a swastika on the atrium wall at Chokecherry Middle School. Lincoln Rowley (Link as he is known to his friends and family) loves sports and pranks. He does not really think too much about the swastika until he learns a secret about his family, and he realizes that his ancestors are Jewish. He decides to complete a crash course in Judaism and have a bar mitzvah. Because of this decision, Link becomes the unofficial mascot of the newest middle school tolerance project: A paper chain with six million links to represent the six million Jews who perished during the Holocaust. With the help of his friends Caroline, Michael, and Dana, Link and the entire school work towards this phenomenal goal with the hope of erasing the bad press from the swastika. This plan goes awry when more swastikas appear around the school, and no one seems to know who is drawing them.
THOUGHTS: Gordon Korman has once again knocked it out of the park. Told in alternating points of view, Korman's book explores the very relevant topic of when a hate crime happens in a "it couldn't happen here" community. This book would be an excellent literature choice for ELA classes in conjunction with a Holocaust unit in social studies or a school-wide reading challenge. The topic can lead to rich discussions with powerful lessons.
Realistic Fiction           Danielle Corrao, Manheim Central SD