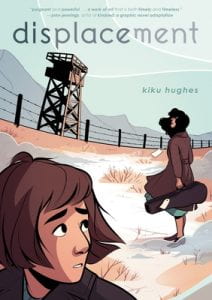 Hughes, Kiku. Displacement. First Second. 2020. 978-1-250-19353-7. 274 p. $17.99. Grades 9-12.
Two of the most acclaimed books of 2019 were They Called Us Enemy by George Takei and Internment by Samira Ahmed. Readers seeking an exceptional read-alike will find one in Displacement by Kiku Hughes. In this debut graphic novel, a Seattle teen (also named Kiku) experiences "displacements" to other places in time. The first time, she is on a trip to San Francisco with her mom, who is exploring her own mother's former neighborhood in Japantown. Ernestina and her parents, immigrants from Japan, lived there until 1942, when they were relocated to incarceration camps along with 120,000 other people of Japanese descent ("nikkei"). After brief displacements to her grandmother's violin recital and to a line at a transportation center, Kiku experiences a longer displacement to the camp at the Tanforan Racetrack. There, she's assigned to a stable next to Ernestina and her parents. Kiku's roommate, Aiko, guides her through the long lines, mess hall, roll call, and day-to-day life in the camp. After a transfer to the more permanent Topaz camp in Utah, Kiku experiences firsthand the traumas, divided loyalties, and resistance that will continue to be felt for generations among the nikkei. When, or even if, Kiku will return home lends suspense to this beautifully rendered story of intergenerational memory.
THOUGHTS: Kiku Hughes writes in her Author's Note, "History and memory have tremendous power to heal us and give us the tools we need to know ourselves and navigate the world." This very accomplished story is definitely one of these tools; its readers will learn from and about the experiences of Japanese Americans.
Note: In her Glossary of Terms, Kiku Hughes explains her decision to use "incarceration camp" instead of "internment camp" or "American concentration camp" throughout Displacement.
Graphic Novel          Amy V. Pickett, Ridley SD