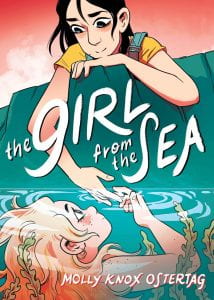 Ostertag, Molly Knox. The Girl from the Sea. Graphix / Scholastic, 2021. 978-1-338-54058-1. 256 p. $24.99. Grades 7-10.
Morgan Kwon likes to keep her life tucked neatly into boxes: family, school, and friends. She also has a secret box, full of her plans for the future: moving to a city, going to college, and coming out. One night, seeking refuge on the cliffs of her family's tiny island home, Morgan falls into the ocean. Just as the contents of her boxes seem to intermingle and slip away, she is rescued by a girl with large, expressive eyes. Believing she's experiencing a near-death hallucination, Morgan decides it might as well be a romantic one and she kisses Keltie in the moonlight. The next morning, Keltie reappears. She's a selkie, and a kiss from her true love has allowed her to transform from a seal into a human. Morgan requires some convincing, though she's undeniably charmed by her freckle-faced new girlfriend. Meanwhile, Keltie is frustrated by Morgan's unwillingness to reveal her true self to her family and friends. An environmental threat adds urgency and drama to this magical, fantastic first love story. The beautifully sunny artwork perfectly captures a fleeting but unforgettable season.
THOUGHTS: The Girl from the Sea, the latest graphic novel from Molly Knox Ostertag (author of the Witch Boy trilogy), is enjoyable on so many levels: as a queer romance, a story of transformation, and a version of selkie lore. The full-cast audiobook production, complete with scene-setting sound effects, complements and illuminates the source material.
Graphic Novel          Amy V. Pickett, Ridley SD