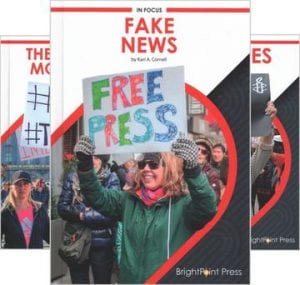 In Focus. BrightPoint Press, 2020. $31.05 ea. $155.25 set of 5. 80 p. Grades 7-12.
Barton, Jen. School Shootings. 978-1-68282-721-5.
Cornell, Kari A. Fake News. 978-1-68282-715-4.
Erikson, Marty. The #MeToo Movement.  978-1-68282-717-8.
—. Refugees. 978-1-68282-719-2.
—. Transgender Rights. 978-1-68282-723-9.
The publisher declares this imprint as young adult nonfiction for struggling and ELL readers. The packaging works for young adults, who will find the physical packaging to visually blend with other on-level resources and may need to be encouraged to use these resources (if they have come to believe they cannot tackle typical young adult nonfiction).  Examples shared in the books cover current issues from worldwide perspectives. The monotony of the writing (subject-verb-complement) to suit the 4th grade reading level stunts the text and at times even deadens or disjoints the issue. For example, "Some colonists wanted to overthrow British rule. They wanted to be independent. This led to the Revolutionary War. Some colonists wrote exaggerated stories. These stories spread rumors about the government. John and Samuel Adams were cousins. They lived in Massachusetts. They wrote anti-government stories" (20). The most helpful chapters come at the end of the books, where tips to see through fake news, or how to support the #MeToo Movement, are shared.  Additional resources are few but useful.
THOUGHTS: Useful where there is a definite need for hi-lo nonfiction for young adults. (Titles reviewed were: Fake News and The #MeToo Movement.)
300s: Social Issues                Melissa Scott, Shenango Area SD