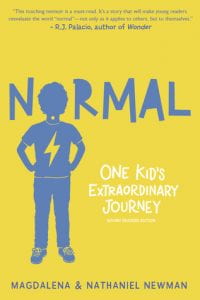 Newman, Magdalena, and Nathaniel Newman. Normal: One Kid's Extraordinary Journey. Houghton Mifflin Harcourt, 2020. 978-1-328-63183-1. 327 p. $16.99. Grades 7-8.
Nathaniel has always felt normal despite living with Treacher Collins syndrome (TC), a condition diagnosed at birth which causes bones in his face to grow and others not to grow, causing breathing and hearing difficulties. Nathaniel and Magda, Nathaniel's mother, recount the story of his life from infancy to his teenage years. Throughout his life, Nathaniel had over sixty procedures to correct craniofacial differences caused by TC. Despite the challenges, Magda and her family were determined to give Nathaniel a normal childhood, full of video games, pets, bike riding, and sibling rivalries. When he turned 11, Nathaniel chose to have his largest procedure yet which would eventually allow him to reach a lifetime goal, to swim submerged in water for the first time. Each chapter begins with a black and white cartoon which entices readers to finish the chapter. The story is told from two perspectives, as indicated by different font styles for each narrator, and includes flashbacks to Magda's life growing up in Poland. Both Nathaniel and Magda teach all children to separate "who someone is from what he looks like."
THOUGHTS: Readers of R.J Palacio's Wonder will easily recognize this story and will enjoy learning how the book and movie positively affected the lives of "Wonder Kids" around the world. Middle Grade readers interested in digging deeper into Teachers Collins syndrome or those who enjoy reading books about diverse kids, will enjoy Nathaniel's and Magda's story.
617.5 Medicine and Health            Jaynie Korzi, South Middleton SD
Biography