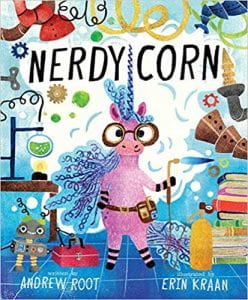 Root, Andrew. Nerdycorn. Beach Lane Books, 2021. 978-1-534-46005-8. 32 p. $17.99 Grades K-2. 
Nerdycorn follows a unicorn named Fern who loves science, experiments, and coding her computer. However the other unicorns love rainbows, glitter, and parties.  They tease Fern and don't include her in their parties; however, they all ask for her help when something breaks. Fern doesn't mind being a good friend and helping, until one day she does mind. The big Sparkle Dance Party needs her to help fix things, and she initially refuses. However, she changes her mind and ends up helping. This causes the other unicorns to apologize and then end up learning some things from Fern. The illustrations in this book fit perfectly with the story as they are bright, colorful, and full of sparkle (just like the unicorns).
THOUGHTS: This is a great addition to an elementary school library collection and would be a great read aloud for a career week or empathy focused lesson.
Picture Book          Mary Hyson, Lehigh Valley Regional Charter Academy