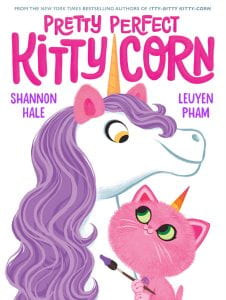 Hale, Shannon. Pretty Perfect Kitty-Corn. Illustrated by LeUyen Pham. Abrams Books for Young Readers, 2022. 978-1-419-75093-9. Unpaged. $18.99. K-2.
Everyone thinks Unicorn is perfect. Therefore, Unicorn does his best to pose flawlessly and majestically when his best friend, Kitty-Corn, decides to paint him. In doing so, however, Unicorn unknowingly sits in some paint. When he sees his portrait, he is mortified to discover that Kitty-Corn has captured his painted bum on canvas! Unicorn feels ashamed and inadequate, and he begins to wonder whether Kitty will even want to be his friend anymore. Beautiful, vibrant illustrations accompany this sweet, silly story about friendship.
THOUGHTS: Fans of Itty-Bitty Kitty-Corn (2021) will devour this adorable new story featuring their favorite duo. Also, this title would be an excellent choice for story time. Not only is the story humorous and entertaining, but it gives young children a lot to think about and discuss. Readers quickly will realize that looks aren't everything, and true friends love us in spite of our flaws. Additionally, even people who seem to have it all together can sometimes feel sad, and that's why kindness is so important. All of these subtle messages conveyed throughout the story make this book an excellent choice for all elementary collections.
Picture Book          Julie Ritter, PSLA Member