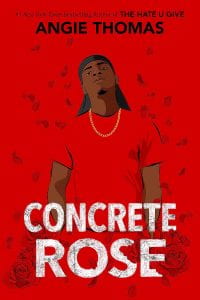 Thomas, Angie. Concrete Rose. Balzer + Bray, 2021. 978-0-062-84671-6. 368 p. $19.99. Grades 9 and up.
Maverick Carter is trying to get by. As a 17-year old single father, he realizes that he must put his gang and drug dealing days behind him in order to care for his son and future child. But, working for Mr. Wyatt isn't paying enough to take care of Seven and help his mother out, and he is "Little Don," son of Adonis, a King Lords legend. After the death of his cousin and best friend, Dre, Maverick tries to keep Dre's wishes of laying low and getting away from gang life, but Maverick lost his brother; he is ready to seek revenge. He returns to dealing for King and goes after Dre's assumed killer. When King provides him with the means to remain in the game and get his revenge, Maverick must decide if Seven, Lisa, and their unborn child are more important to him than his need for  revenge and the gang.
THOUGHTS:  This prequel to The Hate You Give is a glimpse into the struggles and early life of Starr's father, Maverick Carter. He wrestles with wanting to provide for his son and mother in a legitimate way while also feeling a need to follow in his father's footsteps as a King Lord and make "easy money." These struggles are very real to readers because they are universal: Do what is right or do what is "easy." This novel also deals with many social issues: teenage pregnancy, gang life, drug dealing, imprisonment of a parent, being a high school dropout, sexual orientation, and more, but it never seems preachy or frivolous.  Readers will also enjoy connecting Maverick's story to Starr's story and seeing how and why he is who he is. Highly recommended to all who loved The Hate You Give.
Realistic Fiction          Erin Bechdel, Beaver Area SD
Real men take care of their family and even though he's 17 years old, that's what Maverick plans on doing when he finds out he's a father. The way Maverick helps his family at the beginning of the novel is by dealing with the King Lords. That career choice doesn't bother Maverick too much until he becomes a father to a baby boy he names Seven, then Maverick decides it's time to straighten up. However, walking away from the King Lords is easier said than done, and it will take everything in him to do so.
THOUGHTS: If you read and loved The Hate U Give, this is a must read, and I feel you can read them in any order. It definitely gives the reader a better understanding of Starr's father, and you empathize with him throughout the novel. Highly recommended for any high school collection!
Realistic Fiction          Mary Hyson, Lehigh Valley Regional Charter Academy