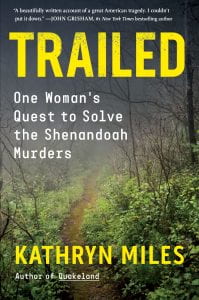 Miles, Kathryn. Trailed: One Woman's Quest to Solve the Shenandoah Murders. Algonquin Books, 2022. 978-1-616-20909-4. 320 p. $28.95. Grades 10+.
In May of 1996, Julianne Williams and Laura Winans were murdered in Shenandoah National Park. The remains of "Julie" and "Lollie," who were in a romantic relationship, were found near their backcountry campsite, off an overgrown and little-used trail. Their killer disappeared without leaving a discernible trace, and their deaths have remained an open, unsolved case. In 2001, author Kathryn Miles began teaching at Maine's Unity College (where Lollie was enrolled at the time of her death) and learned about the unsolved murders. An avid backcountry backpacker herself, Miles felt a deep connection to the twenty-something women. Years later, Miles began researching the Williams/Winans case for an Outside magazine article. Her dogged reporting led her to uncover truths about the crime scene, forensics, and investigator assumptions. In Trailed, Miles explores Julie's and Lollie's personalities, traumas, accomplishments, and impact on those left behind to mourn their loss. She painstakingly unpacks the case against Darryl Rice (the main suspect in their murders) and compiles clues that point to a different suspect altogether. She also digs into thorny questions about crime and safety along America's scenic trails.
THOUGHTS: This excellent true crime volume falls somewhere between Wild by Cheryl Strayed and I'll Be Gone in the Dark by Michelle McNamara, and will be of strong interest to older teen readers who gravitate to the genre.
364 True Crime          Amy V. Pickett, Ridley SD