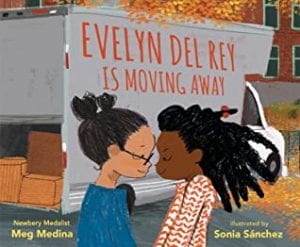 Medina, Meg. Evelyn Del Rey Is Moving Away. Candlewick, 2020. 978-1-536-20704-0. 32 p. $17.99. Grades PreK-2.
A short, sweet tale of a friendship changing because of a move. Evelyn and Daniela are best friends who have twin apartments across the street from each other. Both welcome in each other's home as a bonus child, and the girls play up until it's time for the moving truck to pull away. The Spanish that is sprinkled in the story, along with beautiful illustrations of an urban neighborhood make the sing-song story about difficult change digestible for even the youngest of readers.
THOUGHTS: An #ownvoices book that encourages adolescents to celebrate change, even if it's not easy, is always a great addition to elementary libraries. The Spanish language exposure and vibrant illustrations of city life are an added bonus for urban and rural libraries alike.
Picture Book          Samantha Hull, Ephrata Area SD