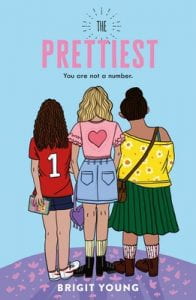 Young, Brigit. The Prettiest. Roaring Brook Press, 2020. 978-1-626-72923-0. 301 p. $16.99. Grades 6-8.
Eve Hoffman writes poetry, wears her high-school aged brother's oversized shirts to distract from her curves, and buries her head in a book so as to not be noticed. She is the most surprised of all her eighth grade classmates to find herself in the top slot on the Prettiest List at Ford Middle School in suburban Michigan. As the principal and teachers try to root out the list's instigator, both girls on the list and off suffer backlash. Prettiest by Brigit Young is told through the perspectives of the main characters: Eve, a well-developed, shy girl from a conservative Jewish family; Nessa Flores-Brady, her best friend, a theater junkie and a large, Latinx girl; and Sophie Kane, a determined blonde-haired girl whose bossiness and make-up mask the shame she feels about her family's economic situation. When the ringleader of the mean girls, Sophie, gets knocked off her pedestal and relegated to number two on the list, she realizes the pretense of her groupies and reluctantly joins forces with Nessa and Eve to take down the person who they believe compiled the list. Aided by Winston Byrd, a lone renegade from the popular boys, their chief suspect is Brody Dalton, a wealthy, handsome, and entitled young man who has verbally abused or offended many of his classmates with no remorse. The trio enlist other wronged girls calling themselves Shieldmaidens. They bond in genuine friendship and sisterhood as they plot to expose Dalton's crime in a public way at the finale of the school play. What starts off as a 21st Century equivalent to a simple slam book story becomes a feminist's rallying cry for girls to be judged on their merits, not their looks, and for all middle school students to resist fitting into a mold to gain acceptance. It also uncovers the nuances of each person's story. For example, the arrogant Dalton is the sole student whose parent never attends school events. Young's talent for echoing the authenticity and humor of preadolescent dialogue enables her to tackle important issues with a light touch. This highly readable work reveals the insecurities embedded in a middle school student's life: not being cool enough, popular enough, and the pain caused by too much attention and not enough.
THOUGHTS: Though there is some show of diversity here (an African-American girl, a girl in a wheelchair), the emphasis is on the pressure middle school students—especially girls—feel to look and behave a certain way. Lots of discussion points in this book: from the insults the girls receive and their collective show of power to the students' bandwagon attitude and the sympathetic– but mostly ineffectual– response of the teachers and principal. Prettiest may present as a "girl" book because of its feminine cover and title, but it is definitely a book for all genders to read. For more tales of positive girl power: read Moxie by Jennifer Mathieu in high school.
Realistic Fiction          Bernadette Cooke, School District of Philadelphia