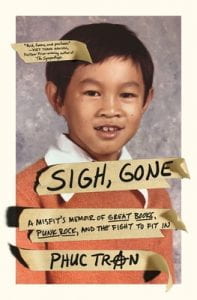 Tran, Phuc. Sigh, Gone: A Misfit's Memoir of Great Books, Punk Rock, and the Fight to Fit In. Flatiron Books. 2020. 978-1-250-19471-8. 306 pp. $27.99. Gr. 11+.
In 1975, during the fall of Saigon, Vietnam, Phuc Tran's family immigrated to the United States with a two-year old Phuc in tow. They landed in Carlisle, Pennsylvania, where they struggled to assimilate into small town life. Sigh, Gone explores Phuc's childhood and teenage years. Against the indelible backdrop of the 1980s, he finds comfort and connection in punk rock music, the wisdom of classic books, skateboarding with his friends, and indulging in some minor hooliganism. This memoir describes his journey of self-discovery as well as many experiences of isolation, racism, and even abuse. Although firmly rooted in time and place, Phuc's quest to develop his own identity (and avoid the timeless pitfall of being a poser) will resonate with today's teen readers. "I contemplated what exactly was authentic for me, a Vietnamese teenager in small-town PA," Tran writes. "What part of me was the real me and what was the façade?"
THOUGHTS: Sigh, Gone is an uncommonly good memoir: moving, universal, and profound. Readers will laugh out loud in every chapter, look up Phuc's many music (and hopefully literature) references online, and also look up a higher-than-average number of new words in the dictionary.
Memoir (Crossover)          Amy V. Pickett, Ridley SD