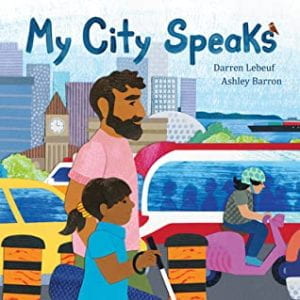 Lebeuf, Darren. My City Speaks. Illustrated by Ashley Barron. Kids Can Press, 2021. 978-1-525-30414-3. Unpaged. $17.99. Grades PreK-3.
A young girl takes readers through a day of exploring her city the way she experiences it – through sound. Though readers may not notice the narrator's visual impairments, the intricate illustrations – a combination of cut-paper collage, watercolor, acrylic, and pencil crayon, with some digital assembly – show her using a white cane and yellow tactile paving at a crosswalk. Sounds from the city help highlight things one may not notice with so many beautiful sights – "hasty honks, impatient beeps, distant chimes, reliable rumbles, speedy sirens and urgent clangs." A fun pre-reading activity would be to ask students to close their eyes and identify sounds they hear then compare what they hear with what they see.
THOUGHTS: This title is an opportunity to discuss diverse abilities and show children how similar people's experiences may be, regardless of ability. Highly recommended for picture book collections, especially those seeking representation.
Picture Book          Maryalice Bond, South Middleton SD