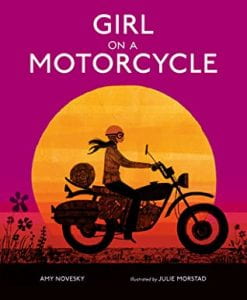 Novesky, Amy. Girl on a Motorcycle. Viking, 2020. 978-0-593-11629-6. Unpaged. $17.99. Grades K-5.
In 1973, a young woman in Paris dreams of seeing the world. So she gets on her motorcycle and takes off, becoming the first woman to solo circumnavigate the world on a motorcycle. This is the story of Anne-France Dautheville and her remarkable journey. Beginning in Canada, the 28-year-old white woman rides across North America, Japan, India, on to Turkey, back to Europe, and eventually, home. Anne-France's magnificent style shines through the poetic text and gorgeous, soft-hued, yet bold illustrations. Her path leads her through myriad cultures and experiences. "I want the world to be beautiful, and it is beautiful. I want people to be good, and they are good." This book will certainly ignite wonder and curiosity about the world and its people in readers, as well as deep admiration for Anne-France.
THOUGHTS: A beautiful book that does justice to a remarkable woman. In addition, it is a much needed reminder that the world is, indeed, beautiful and good. Highly recommended for elementary libraries.
Picture Book          Nancy Nadig, Penn Manor SD