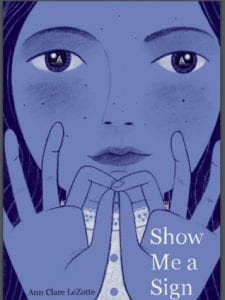 LeZotte, Ann Clare. Show Me a Sign. Scholastic Press, 2020. 269 p.  978-1-338-25581-2. $ 18.99. Grades 4-7.
Part Historical Fiction and part Thriller, this story is set in 1805 Martha's Vineyard and follows 11 year old Mary. Mary is one of the many deaf inhabitants of Martha's Vineyard who descended from a small town in England. This genetic abnormality passes over some, yet inflicts others. However, life on the island is normal for the deaf and hearing alike. Most inhabitants speak their own form of island sign language as well as English. Life is normal until a young scientist from Boston comes to the island to study this abnormality. In trying to uncover the cause of deafness, Andrew captures Mary as his specimen and absconds with her to mainland Boston. Tortured by her captor, and realizing that she is different for the first time, Mary must find a way to escape and return to her family. Follow Mary as she escapes with the help of some Vineyard friends and finds her way home to her family and friends. The afterword includes a short history of deafness on Martha's Vineyard, Sign Language, and the Wampanoag Tribe.
THOUGHTS: Such an interesting and unforgettable story that is rooted in history. LeZotte is deaf herself and does a fantastic job of bringing you into the world of Mary.
Historical Fiction          Krista Fitzpatrick, Waldron Mercy Academy
Tags: Deafness, Kidnapping, Sign Language