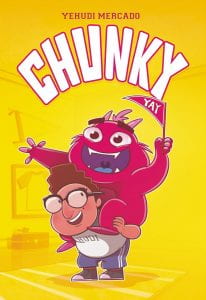 Mercado, Yehudi. Chunky. Katherine Tegan Books, 2021. 978-1-713-75878-5. 199 p. $21.99. Grades 3-6. 
When Hudi was younger he had some health issues which caused him to have his one lung removed. As he gets older, his parents are worried about his health and want him to lose weight and stay healthy, so they set him up with a variety of different sports. These end in Hudi getting injured most of the time. Hudi has a great imagination along with an awesome sense of humor, which help him through most of his sports injuries and endear him to his doctors. Hudi has an imaginary friend that he names Chunky who is his cheerleader throughout the book as Hudi goes through all of these activities.
THOUGHTS: The illustrations are bright and colorful, and the addition of the Spanish is a wonderful addition. There is an author's note that delves more into the book and explains how some of this book is based on the author's experiences growing up as a Mexican Jewish child. This is a lovely addition to any middle school collection.
Graphic Novel            Mary McEndree, Lehigh Valley Regional Charter Academy
Hudi Mercado doesn't quite know where he fits in. He is the only Mexican Jewish kid in his neighborhood and, since Hudi suffered a serious medical condition as a child, his parents are always concerned about his health. Or more specifically, his weight. Hudi's parents push him to try a variety of sports like tennis, soccer, and swimming. Somehow, most of these endeavors end with a trip to the hospital. To help cope, Hudi invents Chunky, an imaginary mascot who is Hudi's biggest fan. Together, the two of them love drawing and making jokes. With Chunky, Hudi is able to deal with all the demands coming his way from his parents. However, when his dad loses his job and things at home become even more tense, Hudi starts to forget himself and his imaginary cheerleader.
THOUGHTS: Inspired by the author's childhood, this graphic novel is perfect for middle grade readers who are fans of Jerry Craft. Readers will relate to Hudi's struggles and laugh alongside him as he finds his place in his world. Expect book 2 two early this summer.
Graphic Novel          Danielle Corrao, Manheim Central SD