Wenzel, Brendan. They All Saw a Cat. New York: Chronicle Books, 2016. 978-1-45215-013-0. Unpaged. $16.99. Gr. K-3.
"The cat walked through the world with its whiskers, ears, and paws…" and every being that sees the cat has a very different picture of that creature. To a child, the cat looks friendly and fluffy. To a fish, the cat looks enormous and blurry, the result of being separated by a glass bowl. To a bird, the cat is a small brown object with a red stripe (collar) as seen from a great distance above. Every animal has a different perspective so the cat becomes many different things. This book is a 2017 Caldecott Honor Medal award winner, and it is easy to see why  Each illustration displays a new style and helps readers experience a new perspective and feeling about how we all see the world differently. A note at the book's end explains, "The illustrations in this book were rendered in almost everything imaginable, including colored pencil, oil pastels, acrylic paint, watercolor, charcoal, Magic Marker, good old number 2 pencils, and even an iBook." THOUGHTS: Brendan Wenzel created a lovely book with lots of discussion possibilities and illustrations that will spark imaginations.
Picture book     Lindsey Long, Nye & Conewago Elementary School
Arnold. Tedd. Fly Guy Presents the White House. New York: Scholastic, 2016. 978-0-545-91737-7. 32pp. $3.99. Gr. K-2.
In this nonfiction book, Buzz and his pet, Fly Guy, make a trip to Washington DC to visit the White House. On their tour, they learn a lot about the people who live and work in this famous building. From the President, First Lady, and their family, to the Secret Service agents, advisors, speech writers, chefs, butlers, maids, and gardeners, it's a full house! The writing style and facts presented in this title are perfect for the youngest readers. Pronunciation guides are provided when new vocabulary words are introduced, and Tedd Arnold's trademark squiggly illustrations are supplemented by captioned photographs of the White House's many rooms, former Presidents, and pets that have lived at 1600 Pennsylvania Avenue.  THOUGHTS:  My students love Fly Guy books (both the fiction and nonfiction titles), and this has been a huge hit in my library's browsing basket. It's also a great tie-in to units about government, American history, or discussions about our nation's capital. The mix of cartoon-style illustrations and real photographs adds interest and makes readers feel like they are accompanying Buzz and Fly Guy on their White House tour.
Nonfiction        Anne Bozievich, Friendship Elementary, Southern York County
Raczka, Bob. Wet Cement. New York: Roaring Brook Press, 2016. 978-1-62672-236-1. $17.99. 48 pp. Gr. K-3.
In the introduction to this collection of 21 poems, Raczka describes how he likes to think of poems as word paintings, and he believes the poet's job is to use words to paint pictures inside the reader's head. In his concrete poems, also known as shape poems, he arranges the words in the shape of the poem's subject, adding an additional layer of meaning. In this collection, he also goes one step further, arranging the individual letters in the poem's titles to paint an image with a single word. His subjects include airplanes, clocks, the Big Dipper, dominoes, fireflies, and icicles, so readers are sure to find something they can relate to. The poems are printed on uncluttered white or black backgrounds, so the arrangement of the letters and words takes center stage.  THOUGHTS:  This title is a strong addition to elementary poetry collections. While students will enjoy pouring over the poems' unique shapes, the poems also lend themselves to teaching other skills such as metaphor, homophones, rhyme, and onomatopoeia.
Poetry     Anne Bozievich, Friendship Elementary, Southern York County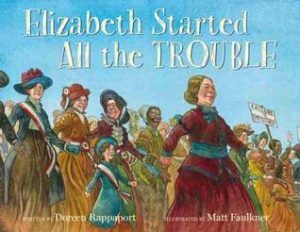 Rappaport, Doreen. Elizabeth Started All the Trouble. New York: Disney/Hyperion, 2016. 978-0-7868-5142-3. Unpaged. $17.99. Gr. 1-4.
Beginning with the signing of the Constitution (during which Abigail Adams encouraged her husband to "remember the ladies"), this title chronicles the progression of the Women's Suffrage Movement in the U.S. through the years.  It highlights significant figures and events, including the Seneca Falls convention, the abolition of slavery, the role of women during the Civil War, the 1913 Women's Suffrage March in Washington, D.C., the imprisonment of suffragists, and the eventual passage of the 19th Amendment.  The book is organized chronologically and details events in language that is accessible even to young readers.  The illustrations give faces to reformers mentioned in the text and add context to the writing.  Brief biographies of key figures, important dates, and additional resources are provided at the end of the book.  Overall, a solid addition to any elementary history and/or biography collection. THOUGHTS: It is worth noting that the author has received several starred reviews, honors, and awards for past biographical works, including Martin's Big Words, Abe's Honest Words, and To Dare Mighty Things.  Like those works, this title also celebrates a noble, heroic life.  It does not, however, focus solely on Elizabeth Cady Stanton (as the title would indicate).  Rather, other female social reformers (such as Sojourner Truth, Susan B. Anthony, Abigail Adams, Lucretia Mott, and Lucy Stone) are also mentioned.  This overview of the women's movement would pair well with Tanya Lee Stone's Elizabeth Leads the Way.  While Stone's title provides a better biographical sketch of Elizabeth, Rappaport's work gives a more extensive overview of this tumultuous chapter in women's history.  An inspiring read for young girls who desire to leave their mark on the world.
Picture Book      Julie Ritter, Montoursville Area High School