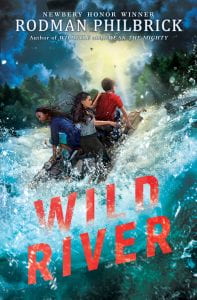 Philbrick, Rodman. Wild River. Scholastic Press, 2021. 978-1-338-64727-3. $17.99. 189 p. Grades 3-6.
This middle grade adventure follows soon-to-be middle schooler Daniel Redmayne on what is supposed be a fun filled white water rafting trip in Montana for the Project Future Leaders school group. But what is to be a thrilling trip soon turns into a life or death trek through the Montana wilderness! The adult guides were able to save their middle school charges, but could not save themselves when the aptly named Crazy River's dam broke and flooded the areas surrounding the river. What follows is an exciting journey in which the five survivors, with very limited supplies, need to work together to survive. Dangerous disagreements lead to the group splitting up and a tragic ending for one. Can the group put aside their anger and survive? Includes an Afterword that is a mini wilderness survival guide.
THOUGHTS: A must purchase for reluctant readers! Each short chapter ends with a twist that will keep readers turning the pages.
Adventure          Krista Fitzpatrick, PSLA Member
Daniel Redmayne is honored he is chosen for a white water rafting trip sponsored through Project Future Leaders. While he doesn't exactly understand WHY he has been chosen, he is excited to take this trip with fellow middle school classmates Deke, Tony, Mia, and Imani. When they arrive in the Montana wilderness, their two adult guides, Sky and Cindi, realize their original destination isn't going to work: The river is too dry. Instead, they move 100 miles down to Crazy River which they promise lives up to its name. Everyone sets up camp with the promise of adventure in the morning. However, Daniel and the other campers wake up in the middle of the night to the sound of Sky and Cindi screaming for them to climb up the nearby ridge. Daniel realizes a dam broke, and there is a flood threatening to wash them away. The adults risk everything to get all five campers on the ridge, so they are safely out of the water's path. Unfortunately, Sky and Cindi do not make it up in time, and they are swept away by the flood right in front of the campers' eyes. Daniel, Deke, Tony, Mia, and Imani are completely alone in the wilderness and miles away from their original destination. Together, they must figure out a way to survive and make it back home to their families.
THOUGHTS:  This book is a fast-paced, action-packed novel. The chapters, all of which end with cliffhangers, are short, making this book a good choice for a reluctant reader or a reader with a short attention span. Middle grade readers, especially those who love Gary Paulsen, will want to read this book.
Adventure          Danielle Corrao, Manheim Central SD