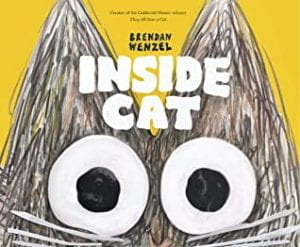 Wenzel, Brendan. Inside Cat. Chronicle Books, 2021. 978-1-452-17319-1. 36 p. $17.99. Grades K-3. 
Inside Cat spends its days peering through many different kinds of windows in its house. Each window is a different size or shape and presents a different view of the city. Inside Cat takes in scenes of everything from flowers to birds, towers to balloons. It sees big machines, small mice, bright traffic lights, and dark nighttime skies. The cat also uses its wild imagination to fill in gaps about what it's seeing and to help make sense of the world. Since it spends so much time looking through windows, Inside Cat assumes it's an expert about the world. But, when an outside door is left open, Inside Cat forms entirely new ideas. Brief, rhyming text winds its way across each double-page spread as Inside Cat moves from window to window, constantly seeing the world from different perspectives. The illustrations, composed from a variety of media including cut paper, colored pencil, oil pastels, marker, and the computer, are the true stars of the story. Careful readers will notice new details each time the story is shared. In particular, they will enjoy searching for the mice and watching what antics they are up to on each spread. 
THOUGHTS: Use this text during creative writing activities to spark ideas about seeing the world from different perspectives and using your imagination. 
Picture Book. Anne Bozievich, Southern York County SD
Pet stories. Perspective fiction. Stories in rhyme.